Students, Alumni Put Campus Radio Back 'On Air'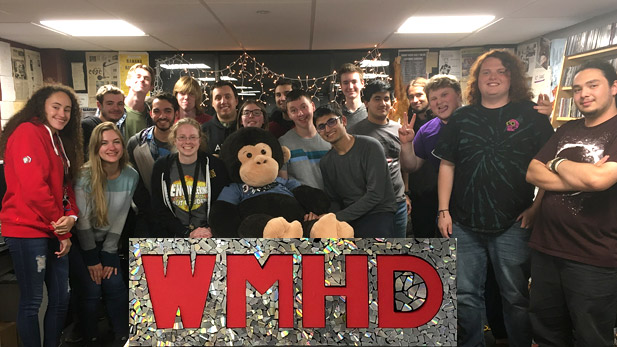 Video may have killed the radio star, but the internet has resurrected Rose-Hulman's campus radio station, WMHD. The station has been relaunched as a free music alternative, broadcasting 24 hours a day online through the efforts of 35 devoted students and several alumni.
Six new weekly shows are airing: New Music Monday (noon and 8 p.m.), Ladies First (Tuesday, 8 p.m.), Kevin Music Hour (Wednesday, 8 p.m.), Talkin' Bout Rose Residence Life Podcast (Wednesday, 9 p.m.), the Abbey Road Friday Lunchtime Show (Friday, noon), and a live DJ Set by Keith C-R (Friday, 10 p.m.).
Listen to the station's web broadcasts online at 
wmhdradio.org
.
A special relaunch party and new broadcast equipment unveiling event amid the coronavirus pandemic culminated eight months of hard work by students and mentors. The familiar voices of seven alumni broadcasters, including Val Grafton (2018), Jim Grey (1989), Kevin Lanke (1997) and Erik Hayes (1997), introduced some of their favorite songs to share with the audience. What started as a two-hour relaunch show turned into a 4.5-hour labor of love for all the participants.
"Despite the pandemic, we've really connected with the students off-campus, faculty on campus and alumni scattered around the world," says WMHD general manager Katana Colledge, a third-year mechanical engineering and mathematics major. "Being a radio station, we also must be able to connect to the music world at large. College radio stations have always been a place to experiment with new music, different music and explore all the genres the world has to offer."
The station's leadership efforts have the campus radio station once again thriving, much like its glory days of nearly 40 years ago. Now, more than 30 students are involved and the station includes a full production studio, a recording studio and a podcast studio, all within the basement level of Baur-Sames-Bogart (BSB) residence hall. The studios have hosted guitar lessons and jam sessions for students, faculty and staff on Friday nights.
WMHD, which has carried the affectionate nickname "The Monkey" for several years, also has branched out to be seen and heard at a variety of campus events, including hosting karaoke events. A special Valentine's Day event allowed students to get together with others to enjoy a fun-filled movie night. A Homework Help audio call box and "panic room" have provided an important lifeline to assist struggling students.
Personnel director Aditya Mehra shares the music he loves from WMHD's studios while still residing on campus. The sophomore mechanical engineering student says, "Simply put, I love music. It has always been something of an anchor in my life, and WMHD is a big part of the music I love. Without us, there is no representation of contemporary music genres on campus … People have finally started to see WMHD as a relevant club. It has been a long harsh journey to get where we are right now. The (relaunch party) was another big step in this direction, and I think we have given the faculty and students a lot of ideas which they may put forward in the future."
The station's soundproof recording studio has become a popular campus hangout as student groups use the drum set, two guitars as well as their own instruments to conduct jam sessions and create their own music for broadcast.
"I've made lots of good friends and had the chance to use a lot of expensive and cool equipment that I just wouldn't otherwise have had access to as an individual. It has also helped me pursue other interests, like becoming a disc jockey at campus events," states equipment director Keith Condray-Raderstorf, a second-year computer science student. He is the host of Friday night's DJ Set by Keith C-R show. "WMHD gives me a place at Rose-Hulman and makes the (academic) workload more bearable. I came to Rose-Hulman for the education and community, but one of the big reasons I have stayed is because of my work and involvement with WMHD."
As Colledge acknowledged in a recent email to fellow WMHD student staff: "What we've built these past two quarters is something that goes far beyond the rooms in BSB, the jam sessions, concerts and equipment. Radio is this community that we are all a part of, and like it or not we're not dying any time soon."
Alumni, like Grey, appreciate the students' efforts, stating, "It's been lovely to reconnect with WMHD and know that a group of students have not only evolved it to keep pace with the times but are just as excited and passionate about what they're doing as we were in the late 1980s. I also love that the WMHD call letters endure, even though there is no reason to keep them on an online station other than to maintain that connection with the past."