Service Awards Recognize Campus' Unsung Heroes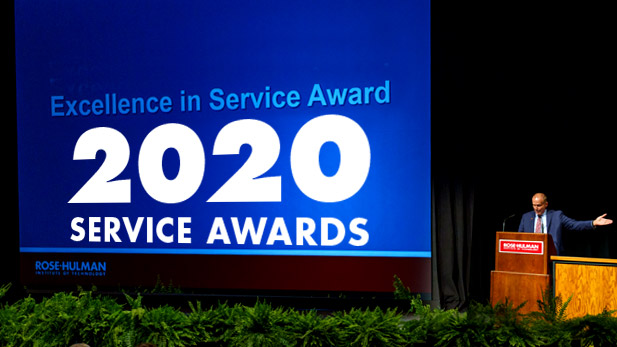 Several staff members have earned 2020 Service Awards in recognition of exceptional contributions to the institute and its constituents. These accomplishments have come through the following:
• Development of new initiatives
• Improvements leading to transformational change
• Performing beyond expectations
• Making a positive impact to the campus community
• Exemplary department leadership
• Demonstrating sincere cooperation, positive attitude, special acts of kindness, successful interpersonal relationships, and exceptional willingness to assist others above and beyond normal job expectations

Excellence in Service Award
Honoring a group within or across departments that developed a new initiative or improvement leading to transformational change.

Constituent Relationship Management (CRM) Implementation Team
This enterprise Microsoft-based CRM system was specially designed to transform how the institute engages with potential students, current students, parents, alumni, corporate partners, and friends. Such tools as outlook integration, communication planning, and automation, workflow improvement have greatly enhanced the ability of campus groups to not only cooperate but improve operational efficiencies, instigate best business practices, personalize engagement with constituents, and provide substantial cost-savings. "The Dynamics 365 enterprise CRM platform will allow the institute to build customer service and other applications years into the future. By having an integrated database of constituent data to use for engagement purposes, our institution has a distinct advantage over many of our peers," says one of several employees who nominated the team for recognition. One department estimates a cost savings of over $100,000 annually by moving to the CRM from a platform that consisted of multiple applications.
Team members:
Danielle Merkel, Assistant Vice President for Project Management, EIT (leader)
Jennifer Kenzor, Executive Director of Institutional Advancement Services
Rob Moffett, Director of Administrative Systems, EIT
Justin Baker, Systems Administrator, EIT
Lori Essig, Database Programmer, EIT
Kevin Davidson, Principal Technologist, EIT
Denny Utter, DBA and Database Application Administrator, EIT
Scott Tieken, Director of Career Services and Employer Relations
Kyle Rhodes, Business Process Analyst, Student Affairs
Ryan McDonald, Director of Business Development, Rose-Hulman Ventures
Shaun Hussey, User Experience Strategist, Communications and Marketing
Sub-Team members:
Charlie Ricker, Assistant Director of Alumni Relations
Dara Gard, Annual Giving Coordinator, Institutional Advancement Services

Shining Star Award
Honoring a staff member with a minimum of one year, but less than five years of continuous service

Charlie Brown, Utility Custodian, Facilities Operations
As the daytime custodian for Olin Hall, Charlie greets building constituents and guests with a can-do attitude and welcoming smile while ensuring offices, classrooms and laboratories are kept clean and ready for use – many times requiring effort after his regular work hours. This helps create a healthy environment for everyone. "Charlie's positive and selfless attitude models the behavior we want our students to adopt as they progress into the workforce," says one grateful employee. "Students see him picking up the stray piece of trash in the hall. They experience his politeness as they interact." Another Olin Hall colleague stated, "Charlie embodies the family-like environment that exists at Rose. I don't want to take this for granted. It's special!"

Make A Difference Award
Recognizing a staff member with at least five years of continuous service who has made a difference in the lives of others throughout the year.
Annette Brainard, Benefits Coordinator, Human Resources
Annette is recognized as the "go to" person who helps faculty and staff plan for retirement, address insurance coverage and procedural concerns, and process educational opportunities through the tuition exchange and benefit programs. She also helped others access other valuable human resources services during the current COVID-19 pandemic. "Annette has been a great resource as we try to work through these uncertain times … The amount of time and patience that Annette has is admirable," said one employee. Another calls Annette "a true behind-the-scenes hero" and adds, "Kindness is a word that seems to describe Annette's everyday approach to her job. When a faculty or staff member needs something, she stops what she's doing and listens, and lets them know that their concern is important to her."
Honorary Make A Difference Award (Posthumously)
Stacey Muncie, Digital Storyteller and Editor, Communications and Marketing
Stacey brought unique perspectives to the communications and marketing team as a parent of a 2019 alumnus, wife of an alumnus, and faithful Terre Haute native. She also brought her creative flair, quick wit and one-of-a-kind style to several award-winning department initiatives, including the legendary April Fools' Day projects, holiday videos, and student recruitment publications/websites. "Stacey's positive attitude was her own special brand," stated an admiring colleague. "Stacey was Rose through-and-through. She would present Rose-Hulman as a place where anything could be done – with the caveat that it still comes from the willingness to work hard ... In life, she did what she could to make sure that students knew they belonged here, that their doubts were unfounded, that worth was measured in effort." In death, Stacey's spirit continues with an endowed scholarship that will help the institute attract local students.

Jeffrey Sheffler, Public Safety Officer
In his role of protecting the campus, Jeff was quick and happy to offer assistance to meet the needs of faculty, staff, and students — regardless of weather or time of day. This included assisting in fixing a flat tire, jump-starting vehicles or opening locked offices/classrooms/laboratories. During last year's Homecoming, Jeff provided valuable assistance to transport an alumnus and his wife from the football game to their car in a campus parking lot. Afterward, the alumnus stated: "If all of your staff are as friendly, courteous and willing to go the extra distance (as exhibited by Jeff), the students and visitors of RHIT are very fortunate."

President's Outstanding Service Award
Janie Szabo, Instructional Designer, Office of Learning and Technology
President Rob Coons presented the award during the virtual Commencement on May 30, amid the COVID-19 pandemic. He noted that "every crisis has its heroes. For us, the crisis was transitioning from face-to-face to remote learning in a matter of days this spring due to COVID-19. This was a monumental task with no playbook and no precedent." Szabo's dedication, hard work, and commitment to Rose-Hulman and its students helped pull together the campus community to make the educational transition as smooth as possible. One faculty member stated, "Janie was a superstar before the pandemic, but has notched up her level of commitment and dedication during this 'stay-at-home' period. While no one ever expected total remote online learning at Rose, Janie already had videos made walking faculty members through the basics of teaching online." Another professor wrote, "Janie embodies the culture of Rose. She is always eager to help in any way possible. Whenever I have an issue, I know that if I turn to Janie, the task will get done."