Grateful Parents Give Back to Support Rose-Hulman Students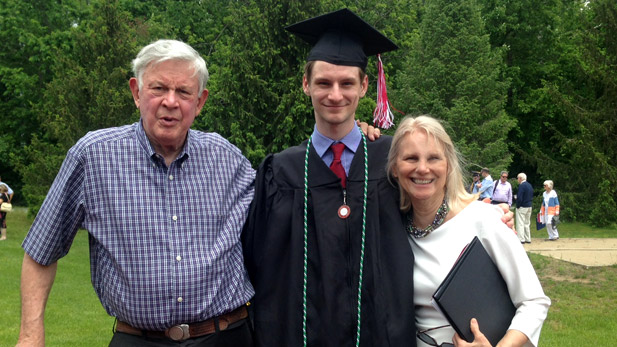 Beverley "Bev" and Marian Compton are grateful for the excellent education and opportunities that Rose-Hulman Institute of Technology made available to their son, Cameron. It provided a pathway toward his early-career success as a System-on-Chip design engineer with the Intel Corporation.
That's why the Maryland couple has helped to establish the John A. Logan Memorial Scholarship, a need-based scholarship fund, for students to attend the top-ranked engineering institution.
Their $60,000 gift is the amount in institutional merit awards that Cameron received over the course of earning a computer engineering degree in May 2019.
"Cameron was the first person in many years from his high school (The Gilman School, an all-boys preparatory school in Baltimore) to attend Rose-Hulman. The college was unknown to us, but upon further review, we could tell it had a great reputation," said Marian. "Cameron attended the summer Operation Catapult program (before his senior year) and just loved it. From then on, he wouldn't stop talking about the dedication of the PhD professors at the camp. There was a match. He had found his place."
Quarterly $5,000 merit-based scholarships helped offset the family's tuition costs for all four years that Cameron attended the college.
Along the way, Cameron got involved in a variety of campus activities, made several lifelong friends with his classmates, was challenged by dedicated professors, and became interested in semiconductors through personal attention and forged his interest in artificial intelligence chip design. He also had a summer internship in software and data science with Booz Allen Hamilton, a management and consulting firm based near Washington, D.C.
"Rose-Hulman had an extraordinary influence on our son's life," Bev says. "As parents, we were so delighted. We have become one of Rose-Hulman's biggest supporters in the Baltimore area."
That's why the couple contributed to the Logan Scholarship, with gifts being awarded to need-based incoming students for the 2020-21 academic year and covering their four-year college careers.
"We wanted to help other students to have the superior educational experience that our son enjoyed," Bev said.
The couple hopes their decision to give back through a scholarship influences other parents who have the means, to do the same.
"Basically, we're giving back what Rose-Hulman once gave us (in financial aid support)," Bev says. "We were thankful then and we're grateful now. We would hope other parents would share in supporting Rose-Hulman and its students."
----------
Help students by adding to the John A. Logan Memorial Scholarship Fund
here
.