Fulk Passed Along Valuable Machine Shop Lessons
Tuesday, October 27, 2020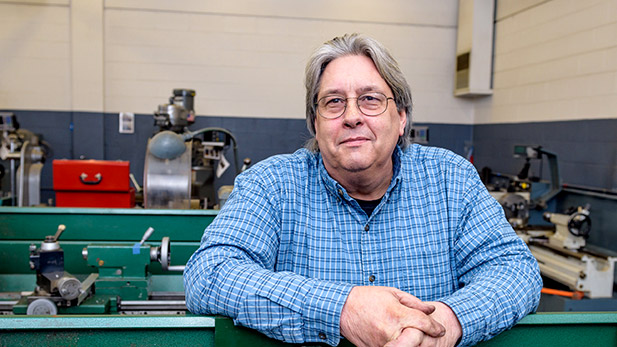 Many of the most valuable educational lessons aren't taught in the classrooms at Rose-Hulman. Rather, hands-on learning and problem solving also happens within
mechanical engineering's
machine and welding shops, and engine, wind tunnel, and robotics laboratories.
And, for 38 years those lessons came through the crafty hands, sharp eyes, and kind words of advice of Mike Fulk.
The machine shop and engine lab technician retired late this summer. However, his association with the institute continues through his honorary alumnus status, being presented by the Rose-Hulman Alumni Association during a virtual Alumni Awards ceremony on November 5 (8-9 p.m.). Alumni have recognized 28 past and current staff members since 1992.
Fulk shared his hands-on knowledge and experience with students and faculty on a daily basis and supported numerous individual, group, and competition team projects. In fact, his first day on the job in 1982 had Fulk assisting high school students in the summer
Operation Catapult
exploration program.
"Mike always extended a helping hand and words of advice, and his work was always appreciated by mechanical engineering students, faculty, and staff. They knew he cared about them and what they were trying to get done," said Provost, Vice President for Academic Affairs and Professor of Mechanical Engineering Rick Stamper, a 1985 mechanical engineering alumnus.
Fulk learned the machine trade as an apprentice crafting military parts for submarines, jet engines, and tanks in a local machine shop.
"I have always enjoyed the process of building things, whatever direction it might take me," he said. "My interests have changed over the years from rebuilding antique engines, working on a house, collecting prewar/postwar Lionel toy trains, to maintaining my own cars and heavy equipment. I also enjoy running heavy equipment. You can really see where you have been and what you have accomplished."
His personal interests have become invaluable to such student groups as Team Rose Motorsports, in which he served as a team mentor, the Solar Phantom solar car race team, and the Human Powered Vehicle team. The engine, wind tunnel, and robotics labs have moved in recent years from the Rotz Laboratory to the Branam and Kremer Innovation Centers on campus.
"Rose-Hulman has been an awesome job for me, providing avenues for creativity, growth, and ever-changing experiences. I have been blessed by meeting and working with a number of gifted individuals, both faculty and students, along the way," Fulk said.
The same year Fulk started at Rose-Hulman he also married his wife, Pam, and they purchased their home in Clay County.
"I have been with Rose-Hulman, my wife, and the same property ever since," he stated. "I wish I could say I was driving the same vehicle, but some things do not last."
Fulk's affection for trains and machines had him enjoying the honor of sitting in the locomotive engineer's seat for the last Terre Haute-Brazil Eastern Railroad train to travel on tracks that were once located on the north side of campus, now converted to create Terre Haute's Heritage Trailway project.