Evans Keeps Online Students Engaged & Stuffed with Knowledge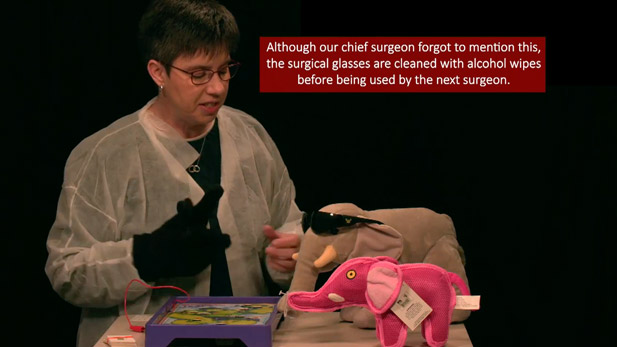 Diane Evans' skills as one of America's top and most engaging college educators continues online as the professor helps students learn to appreciate analyzing statistical methods.

Students in her Six Sigma in Practice course were starting to collect data about hand sanitizer usage on campus when the coronavirus pandemic halted the project. Now scattered throughout the country, the class's statistical pursuits have turned to tracking Evans' daily exercise habits.

"This is providing extra motivation for my daily exercise habits. I'm inspired to get data for my students. It's very helpful and engaging for me as well," Evans says.

These days the engineering management professor can be viewed online donning a medical coat, gloves and safety glasses and grabbing toy surgical tools while using the popular Operation game to consider the improved surgery times of multiple healthcare procedures for a "patient." Under normal circumstances, teams of students would have their own game boards and take turns completing their makeshift surgeries throughout the 10-week academic term.

Now, Evans is collecting data for students by conducting online classroom surgeries. In each case, the two student team members have been replaced by two stuffed elephant figures – one gray (representing Rose-Hulman's Rosie mascot) and another pink. A variety of other stuffed objects are used as standby students in her other online classes.

Click here to view one of Evans' recent class projects.

The veteran professor is a big believer in using real-world examples and collaborative learning to showcase educational concepts.
"I work hard to create an atmosphere that is non-threatening and conducive to learning, and I stress mutual respect," she says. "I also want to show students that what they're learning can make a difference in their world."
Evans' students have used Six Sigma statistical methods to reveal potential cost savings from the amount of the campus' cafeteria food waste while a Straws Suck campaign cut down the use of plastic drinking straws on campus.
That's why Evans has been featured in the Princeton Review's Best 300 Professors book, been nominated for U.S. Professor of the Year, named one of Microsoft's 365 Heroes in Education, and received the Dean's Outstanding Teacher Award at Rose-Hulman. Her educational concepts have been featured in the Minitab and Microsoft's Daily Edventures blogs.
"I absolutely fell in love with teaching the first time I got put in front of the classroom with chalk in my hand," she says. "Hopefully, my students see that I love what I'm doing, and they appreciate what I am showing them. There is nothing better than talking about probability and statistics with students who are interested in learning the subject."
And, taking a stuffed Rosie along for the journey.