Chemical Engineering Labs Stay Ahead of Learning Curve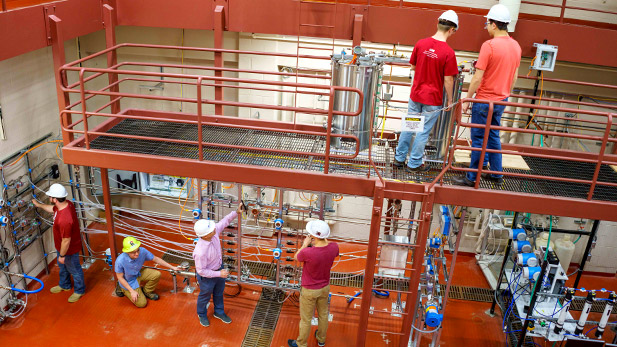 When the spring quarter switched to online learning, chemical engineering professors swiftly adjusted to provide Rose-Hulman students with quality hands-on laboratory experiences through connected facilities, modernized curriculums, virtual educational materials and other tools, several provided and endorsed by industry partners.
These innovations have kept the Department of Chemical Engineering highly respected by academic peers and professional colleagues. The department has been consistently
ranked No. 1 nationally in undergraduate engineering
in the U.S. News & World Report's annual college guide, and the college has earned No. 1 marks for being
focused on chemical engineering
(by College Factual) and No. 6 for
having the best science lab facilities
(Princeton Review's Best 385 Colleges).
Chemical engineering's Unit Operations Laboratory (UOL) has been undergoing a digital transformation during the past two years. The lab is used by senior- and junior-year students to get hands-on experience with real equipment that's used in production facilities.
Advances in computing, networking and data science have allowed the department to connect the laboratory with students and external collaborators in new and exciting ways, according to associate professor David Henthorn.
"This is a chance to connect the ideas and foundational knowledge they have been building for the past two years with actual units used in industry," Henthorn states.
Recently, a partnership between Rose-Hulman and OSIsoft of San Leandro, California, has created the next generation of connected production plants. Students and faculty have written and developed programs that allow equipment in the UOL to connect in real-time to a cloud data archive known as the Academic Hub.
This knowledge depository provides students with hands-on industrial Internet of Things experiences using industry-standard software tools and protocols. Students stream data from the UOL onto OSIsoft's cloud, and then from the cloud to tools for data visualization and process data analytics.
"This workflow mirrors what students will encounter in the process industries and enables students to develop data-focused skills that are highly sought after by today's employers," says Erica Trump, program manager of academic learning at OSIsoft.
Also, an industrial partnership with Greenwood, Indiana-based Endress+Hauser has provided Rose-Hulman with a robust laboratory infrastructure and a fully modernized control system, adds department head Adam Nolte. This has allowed years of data to become available to students for processing and analyzing.
Henthorn adds, "Using these methods students can, in essence, 'replay' data from previous sessions in the laboratory. This allows us to create digital twins–virtual representations of real equipment–and host them in the cloud for students anywhere in the world to interact with. In addition, the ability to digitally connect with equipment has yielded a number of research projects for students in our department, including using augmented reality to 'see into' distillation columns and the rollout of edge devices with machine learning algorithms to watch for safety hazards that might arise and alert users before they occur."
Beyond the digital transformation of the department's physical infrastructure, the chemical engineering lab sequence is now online, with new course materials teaching essential lab skills through online modules. These include short courses on safety, data processing, experimental planning and data visualization.