Burchett's Next Flight Sets Course for Military Return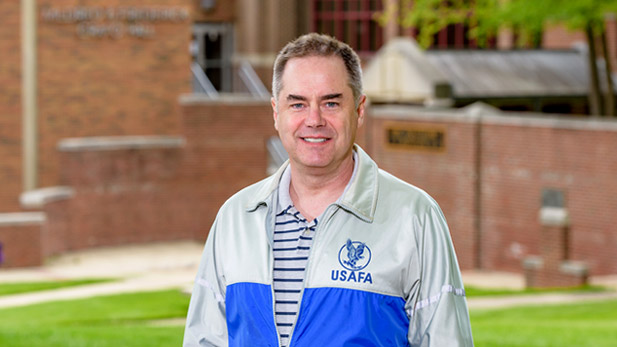 Brad Burchett is returning to his military roots to apply the principles of
mechanical engineering
that he taught Rose-Hulman students for the past 19 years.
The caring and multi-talented educator will retire from the classroom at the end of August to become an aerospace engineer with the U.S. Army Research Laboratory (ARL) at the Aberdeen Proving Ground, located north of Baltimore, Maryland. His skills will focus on developing new technologies for the flight of projectiles to support America's military operations.
Burchett served 12 1/2 years in the Air Force, including seven years as a B-52 pilot and three as an instructor of mechanical engineering at the U.S. Military Academy at West Point. His service on the Rose-Hulman faculty since the fall of 2001 has been augmented as a visiting researcher during educational sabbaticals at NASA's Marshall Space Flight Center, the Air Force Academy, where he earned his bachelor's degree, and ARL. The lab funded his doctorate studies in areas involving ballistics and the modeling and control of projectiles. He also spent two summers working with engineers and staff with NASA's Armstrong Flight Research Center at Edwards Air Force Base in California.
"I'm returning to an area of research that I have dabbled in for 21 years," he says. "I've always been comfortable with various military protocols, and I really enjoy working with veterans and other like-minded patriots."
Burchett is an associate fellow of the American Institute of Aeronautics & Astronautics. He has been recognized multiple times by the Air Force, and his scholarly work, with distinguished colleagues, has been featured in aerospace technology publications. He specializes in the fuzzy logic, genetic algorithms, and neural networks associated with autonomous vehicles and fin-stabilized projectiles.
His courses in advanced controls and intelligence controls have taught students the importance of "getting the mathematics right." A course on intelligent controls provided students the basics of machine learning techniques that are used in control systems, vital to robotics and automation.
This knowledge has helped several students enter successful aerospace and automation industry careers with Boeing, SpaceX, Collins Aerospace, Raytheon, Caterpillar, and iRobot, and also attend prestigious graduate schools in those STEM areas.
"I've had students tell me that they decided to make a significant change to their career aspirations after taking one or both of the classes (in advanced controls and intelligent controls)," Burchett says. "I'm going to miss seeing students have that 'a-ha' moment, while also enjoying the endless pursuit of learning and collegial conversations with other faculty."
Many of these moments have come in Hatfield Hall, where Burchett has joined colleagues and students in performing with the concert band, pep band, and jazz band. For several years, he also organized the institute's annual Engineers in Concert (EIC) event, which features a variety of instrumental, vocal and dance performances by Rose-Hulman students and faculty.
"EIC has been a real privilege to produce over the years," he says. "The students work so hard preparing and perfecting their acts. Every year, without fail, they come through to make a memorable evening of music. Hatfield Hall is such an impressive venue, and our production staff is so dedicated and gifted that it feels like a very professional production."
Burchett has been delighted by several EIC auditions each year. Examples have been John MacAslan's vocal and piano talents, featured in the 2011 show, and more recently, freshman Jerry He's rendition of a Billy Joel song, a chamber vocal ensemble performance, Jonathan Myers' special oboe talents, and the delightful vocal ranges of Amol Agarwal and Sydney Larson.
He adds, "There's always something happening on campus, including athletics, music, student clubs, and various guest speakers. I've had fun every time while having the occasion to sit in with the bands and taking several trips with the ski club."