Alumnus Bringing Science to Tackle Burning Problem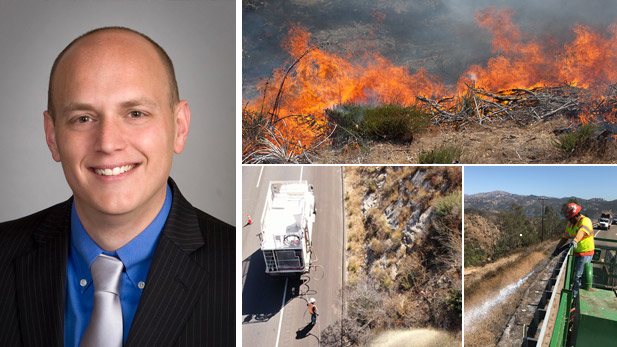 With another wildfire season approaching in California and a just-concluded season of destructive fires in Australia, 2000 electrical engineering alumnus Wes Bolsen is using chemical science to stop future blazes before they start.
Bolsen helped a Denver-based startup, LaderaTech, bring to market a revolutionary spray-on flame retardant that adheres to grass and plant life in high-risk areas where wildfires often ignite. The product, known as FORTIFY, is already being used on private and state-owned property in California and is expected to be approved for use on federal property before the end of this year, according to Bolsen.
Contrary to widespread belief, most wildfires don't start from random lightning strikes, Bolsen says. Most start near power lines, adjacent to highways, or along rail lines.
FORTIFY, which was developed by scientists at Massachusetts Institute of Technology and Stanford University, contains an environmentally-benign hydrogel made from renewable resources that can be applied using conventional application techniques. And, while other outdoor flame retardants have shown some short-term benefits, they have not had the properties necessary to last a full season with just one application, Bolsen says. FORTIFY is designed to adhere to plants and remain effective through an entire wildfire season.
"It's a whole new idea," he says.
In 2019, FORTIFY was applied along a four-mile stretch of a California highway where 37 wildfires had started in a single year. "With the use of FORTIFY, we took it down to zero," Bolsen says.
Earlier this spring, LaderaTech was acquired by Perimeter Solutions, the world's largest maker of fire-fighting chemicals. The acquisition will help FORTIFY reach its commercial potential and add a durable, season-long proactive wildfire solution to the products offered by the St. Louis-based company, says Bolson, who has moved from his position as president and chief executive officer of LaderaTech to director of wildfire prevention for Perimeter Solutions.
Wildfires have devastated huge portions of California in recent years, impacting the lives of several million residents. In Australia, fires have devastated enormous areas of the country and claimed human and animal lives as well. In many cases, the fires have been so large that they have affected the weather and were visible from outer space.
"As wildfires become more widespread, it's crucial that utilities and state agencies begin looking at preventative and proactive solutions to the fires before they begin," says Bolsen. "We know where most fires are starting, but before FORTIFY there was no way to prevent these fires throughout the peak fire season. We look forward to engaging with state and federal agencies, as well as public utilities, to begin applying FORTIFY in preparation for the 2020 wildfire season."
Bolsen, an experienced entrepreneur, is a member of Rose-Hulman's Sawmill Society, a growing network of innovative, forward-thinking alumni and others who have come together to share insights, experience, and inspiration with each other.