Alumna Erin Gawron-Hyla Helps Female Entrepreneurs Break New Tech Ground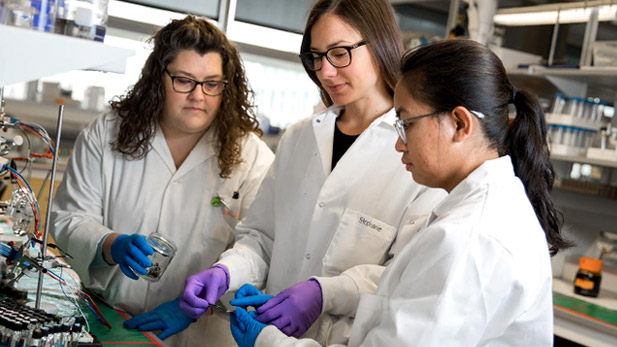 Erin Gawron-Hyla's chemistry and mathematics knowledge has contributed significantly to a powerhouse team of female entrepreneurs and scientists who are changing the future of sensors that could detect leaks of oil and other fluids.

As a postdoctoral research fellow at the University of Calgary, 1999 Rose-Hulman alumnus helped adapt a laboratory innovation with colleague Stephanie Kedzior to provide a real-world application for a new hydrocarbon leak detection sensor. Precisely, the scientists developed self-supported polymer-nanoparticle composite films, made up of inexpensive polymer and conductive material, which can be modified for a variety of applications for the sensor.

"Discoveries in the lab happen all the time," says Gawron-Hyla in a news release from the University of Calgary about the project. "The real challenge lies in determining what you can do with those discoveries outside of the lab, and how you can scale them into practical real-world applications."
Click here to see the news release.
The technology is simple, cost-effective, and can detect light oil within one second and the dilbit crude oil blend within five seconds. The sensors are robust and can easily and efficiently integrate into new and existing infrastructure, saving time and money, all while protecting the environment.
What has attracted attention for the endeavor is that the technology was developed through determination and perseverance by three female scientists—Gawron-Hyla, Kedzior and Nicole Calma—with entrepreneurial aspirations. The technology has been shown to industry experts at the Global Petroleum Show and the Society of Petroleum Engineers' annual technical conference and exhibition.
"We are a strong team of women supporting women. We challenge each other, but also support each other to find solutions," Gawron-Hyla says. "We truly want the best for each other and are willing to go to great lengths to make sure each other succeeds."
The Rose-Hulman chemistry and mathematics alumna has become co-founder and chief technical officer of the start-up SenSyn Inc., which continues to develop the technology, fine-tune it and expand its applications.
Professor Steven Bryant of the University of Calgary's Materials Engineering for Unconventional Oil Reservoirs states, "We have heard from several key players in this space who are excited about this technology and the potential applications. The positive response is not only an indication of how beneficial this product is, but it's also an indication of how this team's hard work and dedication will provide impact."
Gawron-Hyla spent time as a high school science teacher in Georgia before becoming a researcher. She earned a doctorate from the Georgia Institute of Technology before going to the University of Calgary. After finishing her doctorate Gawron-Hyla has become a chemist at the U.S. Army Research Laboratory in Adelphi, Maryland, in addition to her duties of growing and promoting SenSyn, Inc.