A People's Engineer: Alumna Creating a Better STEM Life
Wednesday, December 16, 2020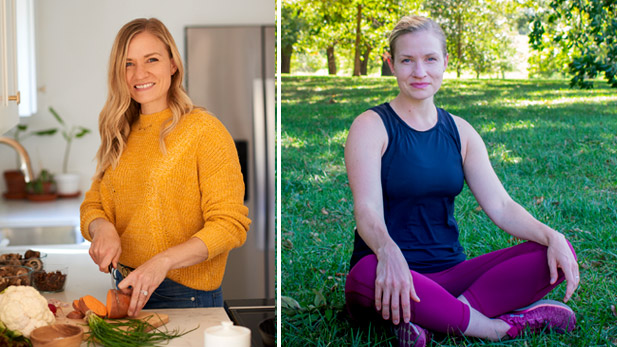 After experiencing corporate burnout, 2011 biomedical engineering alumna Caroline (Andersen) Milton took a doctor's advice and left her manufacturing career in order to cultivate a happier and healthier lifestyle through de-stressing, prioritizing rest, and respecting nutrition.

Now, she's on a mission to inspire others, especially women, to excel at work and home as a personal and sustainable health coach, corporate wellness consultant, and fitness expert.

"While I was as an engineering manager, I was also competing at a high level in Obstacle Course Racing. Employees and coworkers started coming to me for advice about how they could live more fulfilling lives and thus become more productive employees." Milton says. "I had a job in the (engineering) profession that I had been educated to perform well, and while I was great at problem-solving, it came at the expense of my health as anxiety, stress, and lack of sleep impaired my potential."

She adds, "I realized I wasn't taking the very advice I was giving to others. It wasn't until my doctor advised me to quit my job that I finally started to learn what I wish I had known all along: that placing a priority on my health would make me a better manager and employee, and could provide more fulfillment in general."
Combining her skills as a people manager and a certification in health coaching, Milton started the Transformation Table early in 2019. It provides a personal framework for people in the middle of their careers in science, technology, engineering, and mathematics (STEM), along with other demanding fields, to understand the power they hold over their energy levels. It also equips them to balance personal health, family, and vocation without sacrifice. Programs for STEM-based corporate clients seek to increase employee retention and reduce workplace injuries as a result of fatigue.

In this role, Milton classifies herself as A People's Engineer.

"The body is a complicated system-based mechanism. Everyone is distinctly different, with certain problems and challenges that require a set of personally identified solutions. Clients come to me on the edge of burnout and I am motivated to find the unique solution for each person. I love getting to know my clients and learning what makes them tick," says Milton, now married with an infant son and living near Kansas City. "I bring a distinct perspective to the table: I was once in their shoes as a STEM professional. There's common ground that I can help them achieve their goals. Ultimately, people have to realize that they need to take time for their health now or they'll be forced to deal with sickness later."

------------

Seven Habits to Shift Your Health

Caroline (Andersen) Milton recommends the following habits for a healthy lifestyle:

Drink 5 ounces of water for every hour you're awake
Drinking water, especially at the start of the day, aids in digestion, managing hunger levels, keeping tissues and joints well-lubricated, preserving the collagen in your skin, and flushing the body of pesky toxins.

Eat one meal per day using a t-plate method
The key to a meal that keeps you satisfied for hours AND delivers a nutritious punch is a plate with 1/2 being vegetables (dark green and colorful), 1/4 lean protein, 1/4 complex carbohydrates, and 2 tablespoons of healthy fats.

Spend 15 minutes in the sun (or supplement with a high-quality vitamin D)
Nearly 50% of Americans are deficient in Vitamin D (that percentage increases if you spend most of your day indoors). This is instrumental in keeping bones healthy, reducing inflammation, maintaining healthy sleep cycles, and fighting infection.

Dedicate 20 minutes to eating your meal
Multi-tasking your meal or eating it quickly signals a stress response, which leads to diminished assimilation of nutrients and quicker hunger turnaround.

Move your body for 30 minutes
You don't have to be an "athlete" to move your body. Find what works for you: walking, dancing, cycling, yoga, etc. The best exercise for long-term results is the one that becomes part of your daily routine.

Get seven or more hours of sleep
Your body digests and repairs while you sleep. This recharge is critical to stress management and immune function. A lack of sleep over time can lead to premature aging, higher risks of diabetes and cardiovascular disease.

Spend 10 minutes in quiet
The more stressful your work is, the more important this habit is for keeping you balanced. Create a quiet space in your home or office to turn off electronics, and tune into yourself.