Motorsports Alumni Turning Lemons into Racing Victories
Sunday, February 02, 2020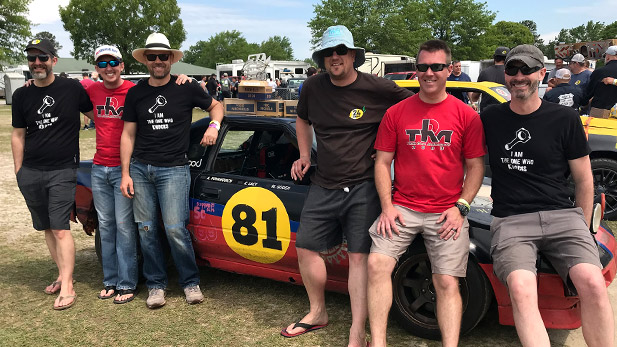 Six motorsports alumni have embraced the spirit of the old adage "when life gives you lemons, make lemonade" to take an old sports car, an engine with about 195,000 miles and other discarded parts to score victories in the 24 Hours of Lemons endurance road racing series.
Along the way the racers have had lots of fun flexing their engineering and driving skills, and maintaining friendships that have endured nearly two decades.
Going by the team name The Rod Throwin' Fools, former Team Rose Motorsports members Michael Gough, Cooper Lacy, Frank Levinson, Matthew Neisen, Matthew Smith and Alexander Yovanovich–all mechanical engineering alumni–step away from their engineering jobs across the country three or four weekends each year for an unique amateur racing experience that limits total car building expenses to less than $500. Rules prohibit contact between the 80 to 100 cars on the track and races are light-hearted experiences with fun-themed cars decorated as a flying pig, wagon train and a stretch Corvette striving to being recognized with such humorous honors as the I Got Screwed award. The top prize of $400 in nickels doesn't cover the race entry fee.
In the case of the Rose-Hulman alumni team, members have modified a 1987 Toyota MR2 with a well-used 3.0-liter V6 engine from a 1998 Lexus ES300 model that was found in a junkyard. The car's Indiana RH 101 license plate came from one of the members' old cars.
"Any form of racing is tough, but there's no better feeling than performing miracles with a lousy piece of equipment for 24 hours and coming out on top," says Gough, a 2007 alumnus.
Yovanovich, a 2002 graduate, adds, "Subjecting a 32-year-old car to abuse that its creators never intended gives us plenty of opportunities to solve problems together, sometimes with comically improvised solutions at the track, to keep the car in the race."
After several near victories in the first three years of racing, the team had their first racing triumph late in 2017 at the famed Road Atlanta racetrack. Their greatest triumph came this spring by outlasting competitors by an impressive 12 laps in one of the series' true 24-hour races at the Carolina Motorsports Park in Kershaw, S.C.
Deep-Rooted Racing Relationships
The team's racing heritage goes back to the students' days as members of Team Rose Motorsports, when they would work together to repair, design and fabricate sports cars for autocross and time trial races at tracks near campus. The racing was affordable, costing $20 for a Saturday afternoon, and the experiences helped relieve the stresses of Rose-Hulman's rigorous coursework.
Lacy, a 2004 graduate and engineering manager with NTK Precision Axle Corp. in central Indiana, says, "For many of us, Team Rose Motorsports was our first hands-on experience in motorsports. It was a great way to learn car control and ultimately a great segue into the wheel-to-wheel racing that we're doing today. Many long days and evenings were spent together in the TRM barn learning to work on or modifying cars. These activities built lifelong friendships that we still enjoy today."
Lacy, Gough and Yovanovich came up with the idea of rekindling the TRM experiences by building a car in 2014 for the 24 Hours of Lemons series. Smith joined in the fun that first year, while Levinson and Neisen became team members in recent years.
"When the guys let me know what they were planning, I was all in," remarks Smith, a 2004 alumnus who is general manager of engineering with JW Hicks Inc. in Knox, Indiana. "For me, it's not all about racing as much as it is racing with this group of friends. Once I graduated, I did some other racing type of events (autocross and track days), but honestly it wasn't as fun as when I was with these guys…it has been a fantastic time."
Working Together to Overcome Obstacles
Like in the past, racing is a team effort, with each member taking turns as driver, mechanic, pit crew member, strategist and providing support throughout each weekend event.
"Half the fun is racing the car, the other half is building it, getting it to the track and pranking each other along the way," says Gough, a senior engineering project team leader with Caterpillar Inc. in Lafayette, Ind.
Levinson has been an amateur racer for more than 20 years and was involved with another team in the early days of the 24 Hours of Lemons series before joining the Rose-Hulman team.
"In amateur racing, we all do this for fun, which means no one is above doing another job to help the team," remarks the 2003 graduate. "Winning is fun, but it's the shared struggle and overcoming obstacles that stand out for me. The Lemons series helps to make the competition friendly. We all share notes about how to get the most out of the car and go as fast as we can."
Yovanovich, a senior design engineer with Task Force Tips Inc. in Valparaiso, Ind., adds, "We all turn wrenches when the going gets tough...It's a thrill to compete as we gradually improve our car, our driving techniques and our pit stop efficiency. We've done 20 races so far and it never gets old."
The team was leading a race near Chicago before a cut spring sliced through a tire and its' spare, hampering the final result. The victory on the Road Atlanta track came after they received a spare MR2 radiator from another Toyota team. And, the car made it to the finish line first this spring after experiencing a broken clutch in the early stages of the race.
"We were forced to keep the car in a single gear for the next 14 hours of racing," says Neisen, a project engineer with Roadtec Inc. in Chattanooga, Tenn. "Then, shortly before sunrise, an on-track tire failure meant unplanned emergency repairs, while being extremely sleep deprived. Pulling off the win on a day that didn't go perfectly felt great."
Later he adds, "There's an extra component to our relationships that make on-the-fly problem solving really click within the team. We've been friends for a long time, but the great friendships formed at Rose-Hulman can be hard to maintain after we all follow different career and family paths in different locations. This race team has allowed a group of us to maintain and strengthen those relationships even 15 years later."
Levinson agrees, stating, "We get to catch up on life, drive a race car as fast as we can, inches from 100 other teams, grind through the lows and ride the good times together. Oh, plus, there's some slick engineering that we get to do too."