Best-Selling Novel Focus of Rose-Hulman's First Common Read, Public Discussions
Wednesday, March 04, 2020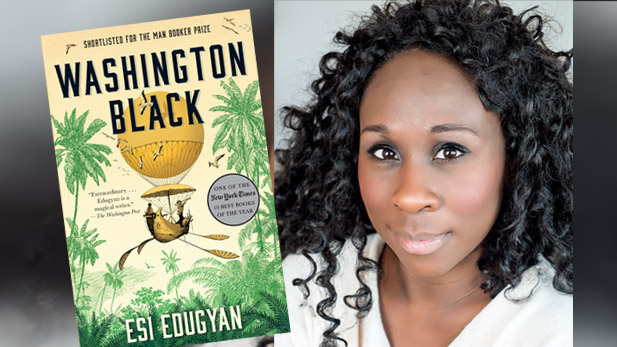 Students, faculty and staff at Rose-Hulman are stepping outside their comfort zones and interest areas in a common read this winter of "Washington Black," a best-selling novel by contemporary author Esi Edugyan.
They'll then have the opportunity to meet and learn more from the Canadian novelist March 11 from 4-5 p.m. in a campus event at Hatfield Hall. The event is free and open to the public.
Lifelong learning is one of Rose-Hulman's strategic goals and the common read project promotes reading on campus, particularly outside of classroom work.
"We were seeking a novel by a contemporary author who could diversify the narratives to which our students are exposed," says Jessica Livingston, associate head of Rose-Hulman's Department of Humanities, Social Sciences and the Arts and associate professor of English. "We wanted a novel that would enable us to discuss complex issues surrounding racial and individual identity, and navigating and adapting to various cultures when you feel like an outsider."
"Washington Black" was inspired by the story of the Tichborne Claimant. In the 19th century, a British aristocrat, Roger Tichborne, was shipwrecked and presumed dead. His grief-stricken mother never gave up hope, and when she later heard that he might be alive and living in Australia, she sent Andrew Bogle, a former slave, to find out if the Claimant could be her long-lost son.
It was the hidden narrative of Bogle's life that led Edugyan to create the character of George Washington Black, a young slave who is pulled from the fields of a Barbados sugar plantation in the 1830s to become a manservant to an abolitionist and inventor known as Titch. Black assists Titch with the development of a hot-air balloon, called "a Cloud-cutter," which they use to make a late night escape from the plantation. Though their fates will soon part, their transformative friendship deftly reveals the complexity of the relationship between the colonizer and the colonized.
"It addresses slavery, but not in conventional way—it's a post-slavery novel," says associate professor of English Corey Taylor, who teaches several courses on African-American literature.
Edugyan agrees, stating, "It's about what happens after, what do you do with your life, what do you make of it, how do you begin to know how to have a sense of self…and how do you try to live in the world when everything you know has been blood and violence and…you're in a world that rejects you."
The novel has been a finalist for several national book prizes and was featured as one of the best books of 2019 by The Washington Post, The Boston Globe, Time magazine and National Public Radio. It also was listed among former President Barack Obama's Favorite Books of the Year.
Taylor adds that "Washington Black" examines the intersection of scientific exploration, art and invention. It also addresses self-discovery, scientific discovery, artistic discovery and discovering how to relate to other people who are different.
A faculty panel discussed the novel in December and there will be small group discussions on campus in late January to prepare students and others for Edugyan's campus visit and presentation. Professors are using the novel in a postcolonial literature course this winter and a contemporary American fiction course this spring.
Edugyan is the daughter of Ghanian immigrants whose experiences were the basis of her literary debut, "The Second Life of Samuel Tyne," which was shortlisted for the 2005 Hurston-Wright Legacy Award. Her second novel, "Half-Blood Blues," was featured by O, the Oprah Magazine and she also wrote "Dreaming of Elsewhere: Observations on Home," a non-fiction work. Edugyan lives in Victoria, British Columbia.