Alumni Sharing the Dream of Living, Working in Space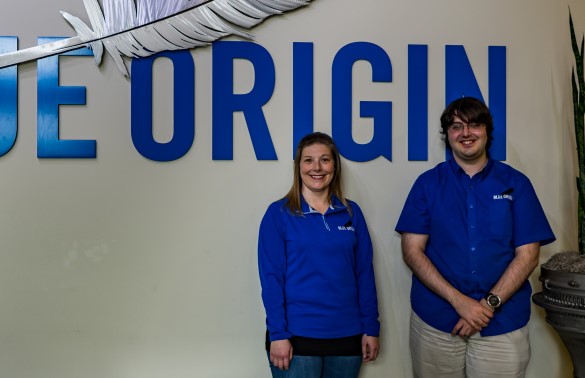 Billionaire Jeff Bezos has found three alumni who share in his vision of someday having humans living and working in space.
His rocket company, Blue Origin, has taken steps towards eventually launching people and payloads into space. This spring, Bezos described his vision of establishing near-Earth rotating space stations that could replicate Earth's cities. He also has unveiled a new lander to explore the moon.
"It's time to go back to the moon, this time to stay," stated Bezos to media attending a press event in Washington, D.C.
Helping to achieve this goal are alumni Michelle Costenaro, Ian Malik and Heather Wiest. They have been involved with key components of Blue Origin's plans through reusable rocket engines and launch vehicles that will dramatically lower the cost of access to space. The company has signed contracts to launch commercial satellites, starting in 2021.
Costenaro, a 2001 chemical engineering alumna, is a manager with Blue Origin's test and launch engineering team, leading efforts to develop conceptual designs, budgets and schedules for planned upgrades to the launch pad for the company's New Shepard reusable launch vehicle, which took eight NASA-sponsored research and technology payloads into space in January of 2019.
She also assists with the design of new test facilities in launch sites in Washington and west Texas and works with the engines, vehicle and design teams to generate, validate and verify requirements for new and updated ground system designs.
Malik is a mechanical engineer in the test facilities group, designing and supporting the various test stands and ground support systems across the Washington and Texas launch sites. The 2014 chemical engineering and economics graduate, is working on a high-pressure cryogenic system to support component testing, after spending several years supporting an upgrade to the suborbital launch pad in Texas.
Wiest, a 2011 mechanical engineering and economics alumna, joined Blue Origin after earning a doctorate in aerospace engineering. She is a mechanical engineer in Blue Origin's launch facilities development group, located in Merritt Island, Fla., and helping with the construction of a launch pad at the Cape Canaveral Air Force Station for the New Glenn, a reusable heavy-lift two-stage rocket that's capable of carrying people and payloads routinely to the Earth's orbit and beyond. New Glenn has twice the payload capacity of other launch providers in the market and is designed to make upright landings.