Undergraduate Mathematics in Spotlight at Rose-Hulman Conference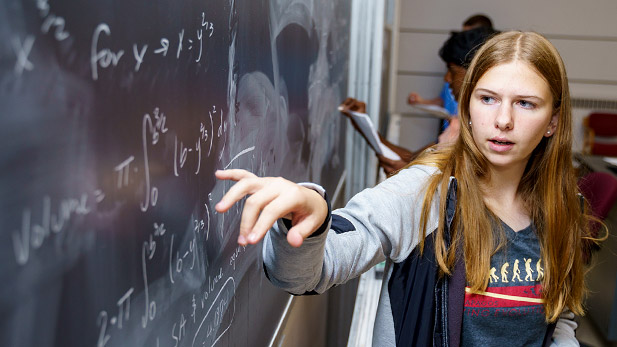 For the 36th consecutive year, college mathematics students and faculty from throughout the country will converge at Rose-Hulman's Undergraduate Mathematics Conference to celebrate the latest scholarly work by students on a variety of topics. This year's conference will be Friday and Saturday, April 19-20, in the Mussallem Union.
One hundred students and faculty from 14 colleges and universities will participate in two invited presentations, 23 student talks, and three two-hour short courses.
One of the reasons the conference attracts presentations from student scholars is because some of the talks could eventually be featured online in the Rose-Hulman Undergraduate Math Journal, one of the few academic publications devoted entirely to papers on topics related to mathematics, written specifically by undergraduate students.
"Our conference continues to attract some of the best scholarly works by mathematics students from throughout the Midwest and elsewhere across the country," says conference organizing committee member Eric Reyes, associate professor of mathematics. "This year's conference will feature presentations on some intriguing topics, ranging from the mathematics of cloaking to a simulation to better understand the domestication of wolves."
Students from the following institutions are scheduled to make presentations this year: Aquinas College (Mich.), DePauw University (Ind.), Fordham University (N.Y.), Hillsdale College (Mich.), University of Illinois, IUPUI, University of Kentucky, University of Michigan, Purdue University, University of Richmond (Va.), Rose-Hulman, University of Toledo (Ohio) and Valparaiso University (Ind.).
Also, Susan Goldstine of Maryland's St. Mary's College will present a plenary program on the topic "When Mathematics Says No: The Aesthetics of Impossibility." It will explore analogous results for mathematics techniques in the fiber arts – through knitting, crochet and embroidery – that have a set of limitations on what types of designs can be produced. Some of these restrictions have their own intrinsic beauty, according to Goldstine, an associate editor for the Journal of Mathematics and the Arts.
Then, Albion College Mathematics Department chair Mark Bollman will discuss "The Mathematics of Blackjack" in another plenary address. This talk will describe some of the calculations, both theoretical and experimental, that led to the basic strategy in beating the popular casino table game. Bollman also will examine the advantages derived from card counting.
The conference will begin Friday with three short courses on the following topics: An introduction to data science, presented by Purdue professor Mark Daniel Ward; the mathematics of weaving, by Rose-Hulman professor Joshua Holden; and advanced editing in LaTeX, the de facto standard for typesetting math and scientific documents, by Rose-Hulman professor Timothy All.
Meanwhile, Rose-Hulman students making presentations will be Joshua Arroyo, junior engineering physics and math major, on "Proof of a Construction of Odd Order Magic Cubes"; Casey Garner, a senior math and computational science major, on "Solving the Dirac System with the Unified Transform Method"; Jiawen Wang, a senior math student, on "Partitioning Cellular Automation and Hexagon Lattice Gases,"; and Muqing Zheng, a senior math and computational science major, on "Cloaking, Wave Equation and Damping Models."
Mathematics professors Kurt Bryan, Sylvia Carlisle and Joseph Eichholz have joined Reyes in forming the organizing committee for this year's conference, with assistance from Department of Mathematics Administrative Assistant Michelle Prather.
The conference is sponsored by Maplesoft.