Peer Tutoring Lab Expanding Students' Communication Skills
Wednesday, April 10, 2019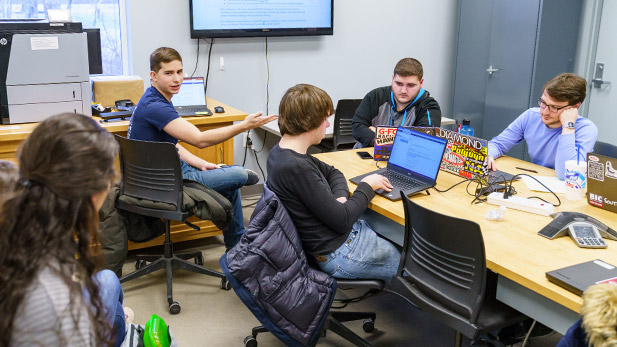 Communication and technology skills are being interwoven in a new student-led project that's assisting competition and design project teams in explaining their highly technical projects, with just the right words and phrases.
Five tutors are available by appointment in the campus' Branam Innovation Center to help classmates gain the essential skills to make technical presentations, document their project's achievements, and report their successes to clients, competition judges and general public.
The Communication Lab is another element of real-world scenarios being provided Rose-Hulman students in valuable outside-the-classroom educational experiences, says Sarah Summers, assistant professor of English.
"We're bringing engineering and communication together in the same space," notes the professor. "Our students take courses in composition and technical communication throughout their college curriculums, but, in most cases, those skills aren't applied in practice until they get in the work environment. This new Communication Lab is closing that gap."
The two-year pilot initiative is being sponsored by the Geraldine C. and Emory M. Ford Foundation.
Most of the tutors learned how valuable communication skills are while completing internships and co-operative work experiences with companies throughout the country.
"In the workforce, communication and documentation is crucial," says tutor Beata Barati, a senior majoring in biomedical and mechanical engineering. She had work experiences at Eli Lilly & Company, Cook Group and Boston Scientific.
Junior computer science student tutor Olivia Ejde returned to campus this winter following a co-op with Collins Aerospace (formerly Rockwell Collins) and is preparing for an internship this summer at Microsoft. She says, "Technical skills are a given about students from Rose-Hulman, it's the communications and teamwork skills that set us apart. I noticed that during my co-op. I was comfortable in giving presentations and working in teams. Through this Communication Lab, I'm hoping to help others to stand out in the workplace."
The Communication Lab is starting by reaching out to assist competition teams since written communications and multimedia presentations provide valuable points toward success in regional and national contests.
"On many occasions, our teams don't have the time or expertise to give reports the attention that's necessary. Hopefully, we're going to change that," says tutor Kiana Caston, a senior computer science and software engineering major. "If we can help Rose-Hulman do better in these competitions, then everyone has benefitted from this experience."
Other tutors enjoying the opportunity to work with students and teams are seniors Shubhankar Gandhi, a senior mechanical engineering student, and Steven Peterson, a biomedical engineering student.
"We're expanding our own communication skills, and learning to work with others, while helping others," says Peterson.
Summers and several tutors made a presentation about the Communication Lab project at a national education conference on peer tutoring in writing.