Our Professor in Washington: Dan Moore Providing STEM Education Insights to State Department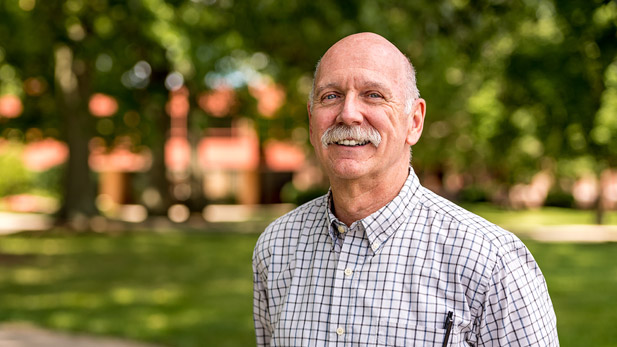 Engineering educators have had one of their own providing guidance to federal officials establishing science, technology, engineering and mathematics (STEM) education policy and seeking to better understand how global STEM issues impact the U.S. and its international interests.
Dan Moore, professor of electrical and computer engineering, is in the final month as a senior adviser with the State Department's Office of the Science and Technology Adviser to the Secretary. Moore participation has been in conjunction with the Institute of Electrical and Electronic Engineers' government fellows program.
Moore has been pleasantly surprised to learn the following from his year-long experience:
The importance of science and engineering education across all federal government agencies, especially the State Department.
The level of inter-agency cooperation, with common goals and recognition of the critical need for a STEM-educated workforce throughout the world.
How the U.S. government is supportive and in many cases leading STEM development efforts in underdeveloped areas of the world. 
He has helped the State Department work with the Organization for Economic Co-operation and Development (intergovernmental economic organization) on the Benchmarking Higher Education System Performance report, released on August 1. It is believed to be the first comprehensive analysis of OECD higher education systems in over a decade.
Key report findings were:
Higher education spending per student rose by 20% in OECD countries.
Only 4 in 10 bachelor's students complete their study program on time, and 2 in 10 do not complete it at all.
OECD member countries are approaching gender balance among academic staff.
There is limited collaboration between business and higher education in commercial innovation.
Moore has been a member of the subcommittee on federal coordination in STEM education. The group played a key role in the National Science and Technology Council's report, America's Strategy for STEM Education, which charts a course for the nation's STEM education. Important issues are improving STEM literacy, increasing diversity and inclusion, and preparing the STEM workforce to meet future challenges by developing partnerships between schools and local businesses.
"It is important to understand that a STEM knowledgeable citizenry, not just the technical workforce, is recognized as essential for continued U.S. growth, and that departments and agencies across the U.S. government are making strong commitments to invest in the plan," says Moore, a member of the Rose-Hulman faculty for 22 years.
He has been a member of several emerging technology programs as the State Department representative to committees representing interests of the Office of Science and Technology Policy and National Science and Technology Council.
Moore also participated in a meeting of the Asia-Pacific Economic Cooperation's (APEC) Chief Science Advisors in Australia and a gathering of science advisers to foreign ministers in Oman. His fellowship will conclude later this month after attending a Women in STEM planning meeting, preparing for a future APEC meeting in Chile.
Moore will bring fellowship insights and perspective about ethics and global STEM issues back to the classroom at Rose-Hulman for the 2019-20 school year. He will encourage Rose-Hulman students to consider working for government agencies and faculty colleagues to contribute to federal STEM programs through government fellowships.