Internships Just a Handshake Away at Fall Career Fair
Wednesday, September 25, 2019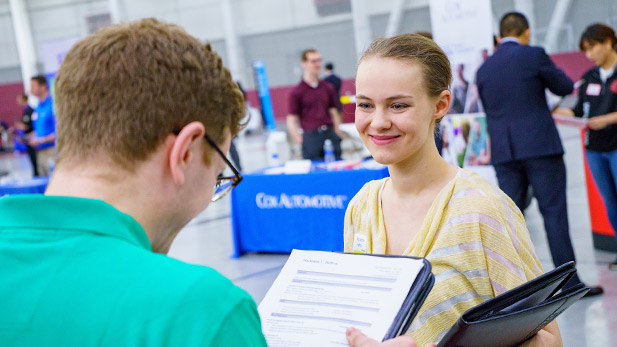 Twelve weeks may not seem like a long time, but when it comes to a summer internship, that experience can be a life-changing one for Rose-Hulman students.

And, it can start as early as the freshman year, with companies providing lucrative stipends, picking up housing expenses, and paying for online classes.

That's happened to Andrea Wynn, who spent this past summer as an intern with Collins Aerospace in Cedar Rapids, Iowa. She helped design, implement, test and integrate a digital display for a next-generation helicopter cockpit, as the only intern on a research and development team.

"I wanted to explore early in my college career just what someone with computer skills does in the real-world and if that's really the career pathway for me," says the student from Redmond, Washington, who is majoring in computer science, software engineering and mathematics (with a minor in psychology).

Wynn's internship search started during new student orientation activities, attending information sessions for the Office of Career Services and meeting corporate recruiters at the annual Party on the Patio event on the first day of classes. She perfected her resume and interviewing skills with helpful advice from career services professionals, before attending Rose-Hulman's Fall Career Fair.

"I wanted to be as prepared as possible and was determined to put my best foot forward," she states. "I wasn't going to take 'no' for an answer. And, if I did get a rejection, I went on to the next company. I was OK with failing. There had to be something for me somewhere and I was determined to find it."

Well, that perseverance paid off with four companies interviewing Wynn on the day following last year's career fair. Two internship offers came soon thereafter, including the one from Collins Aerospace that she accepted in late October.

See more about Wynn's experience at the Fall Career Fair here.

Wynn has her resume ready for this year's Fall Career Fair, taking place on campus Oct. 2 with approximately 250 companies and more than 800 seeking candidates for full time, internship and co-op opportunities for 2020.
Things may have taken a little longer, but Tyrell Cockroft of Chicago also managed to find a summer internship following his first year as a civil engineering student. He helped Baker Concrete Construction in Ohio design structures for ongoing projects, including modeling a floor for a large-scale apartment building. Then, he got to see the project go from the computer to construction.
Cockroft says, "I learned that you really have to be able to visualize what you're designing, so that it makes sense. The only way you can gain this kind of experience is to actually go onto the job site and watch or help construct it...This first stepping stone taught me a lot more than just technical skills. It helped me as a person and young man, giving me experience about what real life is, what to expect and how to handle these tasks."
The Office of Career Servicesand Employer Relations reports that 22 percent of first-year students have internships, earning an average of $13 to $17 per hour. Other students have opportunities to participate in undergraduate research programs after completing their first year of college studies. This starts them on a journey in which 94 percent of Rose-Hulman students have at least one internship/co-op work opportunity or undergraduate research experience, with 70 percent having two valuable experiences. Juniors report earning an average of $21 to $25 per hour during internships.
Besides the financial benefits, students come away from internships with valuable experiences in a professional setting and enhanced communication, critical thinking and problem solving skills.
Internships and co-ops also provide significant benefits for companies. That's why most programs involving science, technology, engineering and mathematics provide stipends, arrange housing, and include mentorship opportunities with experienced professionals.
"We gain as much as the students (from summer experiences)," says Corie Biggs, engineering supervisor at Marathon Petroleum Company's Robinson, Illinois. "Every day, we're reviewing the students and they're looking at whether they would be interested in working for us in the future. It's the ultimate win-win situation on both sides."
That certainly was the case for Kierra Rogers, who returned for her junior year as a biomedical engineering student after enjoying a summer internship with Medtronic, the world's largest medical device company. She learned basic signal processing techniques by reading MRI images and learned about other bioinstrumentation areas. Rogers made three presentations about her work to senior leaders within the company's Minneapolis, Minnesota, office and joined other interns in having lunch with Medtronic's chief executive officer.
"You truly don't know what you're capable of until you can apply it in the real world," wrote Rogers in the blog titled "A Career That Changed My Life: My Summer at Medtronic." "This summer was filled with vast opportunities for me to do just that: grow as a young professional and an engineer," she says.
Senior optical engineering student Alex Huber got to network with NASA officials working to develop future satellite technology at NASA's Langley Research Center in Hampton, Virginia. He also has observed the development of earth science satellites, the Mars 2020 rover and other aerospace projects during internships at two NASA facilities and at Ball Aerospace.
"I've always been excited about aerospace and space exploration," he remarks. "The biggest lesson I learned was how dedicated each individual was to their work. Some scientists spend their whole lives analyzing and interpreting data from one satellite mission...The most vital aspect of climate change studies is not allowing any gaps in data. So, to make sure there's planned missions that can provide data to fill in the gaps is very important."

Meanwhile, senior civil engineering major Jemesia Jefferson spent the summer as the pathways intern in the traffic and safety group for the Federal Highway Administration's Eastern Federal Lands Highway Division. On the second week, she travelled to Delaware to complete a safety investigation at 12 different work sites. Later, the Richmond, Virginia, student reviewed safety and traffic control measures for roadways being rebuilt in Puerto Rico in th wake of Hurricane Maria in September 2017.

"Before this (internship) experience, I was set on being a water resources engineer. However, I have grown to realize there are other areas in civil engineering that I am interested in possibly pursuing. The internship has shown me that I should consider my other options before settling down into one specific field," she said.