Internship on Ice
Thursday, January 10, 2019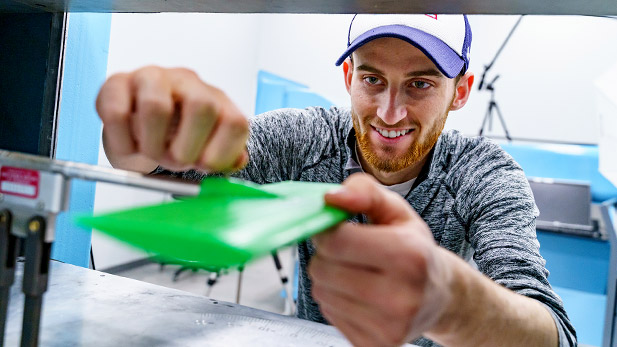 When Team USA counts its medals at the 2022 Winter Olympics, a little Rose-Hulman know-how might be mixed into the gold, silver or bronze discs hanging around the athletes' necks.
That's because Cole Supp, a senior mechanical engineering major, used his design skills to help the U.S. bobsled and skeleton teams get the most out of their sleds during an internship this past summer at the Olympic Training Center in Lake Placid, N.Y.
"I've always been a huge fan of the Olympics, especially the Winter Olympics," he says.
Supp essentially created his own internship while watching the 2018 Winter Olympics on television and realizing how the bobsled and skeleton teams could benefit from having someone on staff familiar with racing design and aerodynamics.
"They had no engineers on their team," Supp says. He contacted the team by email and, after a few telephone conversations, the first-ever USA Bobsled/Skeleton Team summer internship was ready to go.
Supp is a self-proclaimed huge sports fan, so setting his career sights on competitive athletics is a perfect fit. At the Olympic Training Center, he focused mostly on helping the skeleton squad design a new sled. To do that, he created 3D computer models and worked with the actual sleds used at the winter games in South Korea.
Improving a sled's performance by even a fraction of a second can mean the difference between winning a medal and going home empty handed.
"They had a sled they needed to redo completely," Supp says.
This was not his first experience helping a racing team. The year before, he used a summer internship to help Richard Childress Racing, a NASCAR team, improve its performance. Both experiences allowed him to apply knowledge he gained at Rose-Hulman working with the wind tunnel in the Rotz Lab, using 3D computer design software, and as a member of the Design, Build, Fly competition team.
"When I decided to become a mechanical engineer, I didn't want to do the standard things. I wanted to use my degree to do something different," Supp says.
At the Olympic Training Center, he enjoyed several side benefits, including getting to know athletes such as Olympic bobsled silver medalist Elana Meyers Taylor, and touring historic Olympic venues from the 1932 and 1980 winter games, which took place in Lake Placid.
Because it was summer, he couldn't take a test ride in a bobsled or on a skeleton sled, but both are things he'd love to try, especially skeleton, he says.
U.S. Olympic budget constraints may prevent Supp from returning to work for Team USA after graduation, but that's a career option he wouldn't rule out.
"If they want me, I'd go back in a heartbeat," he adds.