Computing Students Are Up to Cybersecurity Challenge
Monday, November 25, 2019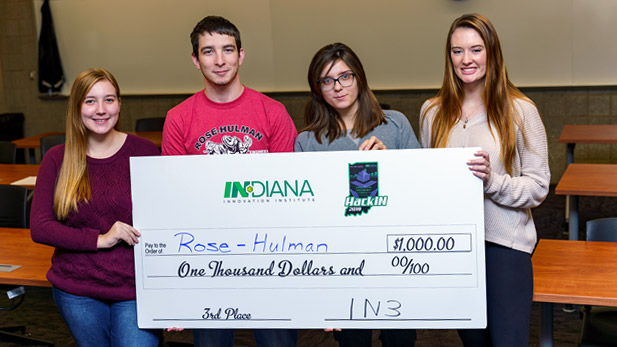 Dealing with a real-world cybersecurity scenario ripped from today's media headlines, a team of computer science and software engineering students were up to the challenge in roles as computer security researchers for an Indiana company that discovers a mysterious device on their grounds.

Junior Bailey Morgan and first-year students Emily Boatman, Kati Jurgens and Alyssa Pinkston shared $1,000 third-place honors among 13 opposing teams in the Indiana Innovation Institute's HackIN hackathon late this fall at Launch Indy in downtown Indianapolis.

The Rose-Hulman team was called upon to use hardware/firmware reverse engineering techniques to build a replica of the found device, determine whether it was a cybersecurity risk and then respond to any malicious discoveries. It was a race against time with the threat of corporate espionage looming as the client company prepared to make a major product release.

And, it was all almost too overwhelming for the four students. They became frustrated after working five hours trying to pin-point aspects of the device, which featured two microcontrollers and numerous electronic connections.

"We nearly quit after trying every conceivable solution and thought we were well over our heads in this challenge," admits Jurgens, a computer science major from Williamsburg, Ohio.

However, that wasn't the case. Some helpful advice from industry mentors resulted in a successful solution in setting up the device replica. Then, the students went about using their programming skills to investigate any malicious aspects within the device's software and hardware systems.

"This was about as real-world of an experience as you're going to get," says Morgan, a computer science student from Hamilton, Ohio, who has had extensive internship experience with Northrop Grumman.

Pinkston, a software engineering major from Boonville, Indiana, adds, "There were aspects of this challenge that we don't get in our normal classroom assignments, especially in our first quarter of college. That's what made it so exciting. There were a lot of unknown elements that we had to work together to solve."

"As we kept going making successful solutions, we gained confidence that we were on the right track," says Boatman, an international computer science student from Terre Haute, Indiana.

Hosted by Indiana Innovation Institute and Booz Allen Hamilton, the hackathon brought together the brightest minds from universities across Indiana and neighboring states to demonstrate their skills and learn more about industry opportunities. Many of the opposing teams consisted of students enrolled in graduate- and senior-level courses.

That's what makes the Rose-Human team's performance so remarkable, according to Computer Security Club adviser Sid Stamm, an associate professor of computer science and software engineering, and an expert in computer security, data privacy and web standards.

He also points out that HackIN was the first hardware hacking challenge by current club members. That's what made the experience so exciting, admits Pinkston.

"This just got us more excited about doing more of these challenges in the future. We should get even better as we learn more things in class and within the Computer Security Club," she says.