Upcoming Workshop to Turn Emerging Engineering Educators into Academic Change Agents
Thursday, January 10, 2019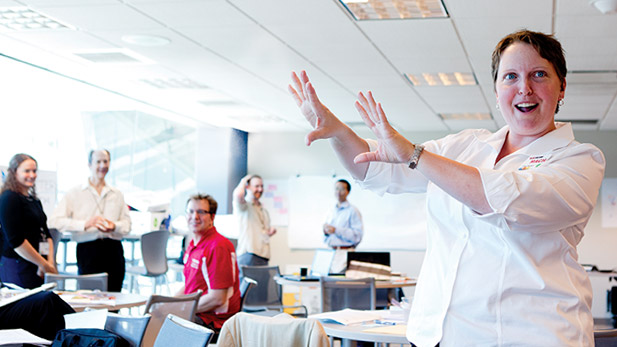 Emerging engineering educators from across the country will learn skills to promote change in their academic departments through a workshop Jan. 19-20 on campus that's supported by the National Science Foundation.
Engineering academic departments are seeking new educators who can bring innovation to their colleges, from designing new academic programs to introducing new teaching techniques and assessing their effectiveness. However, these emerging educators are not typically prepared to become academic change agents within their departments and institutions. Often, they lack skills like strategic thinking, obtaining buy-in, and creating partnerships, according to Eva Andrijcic, assistant professor of engineering management at Rose-Hulman.
The Emerging Engineering Educators Making Academic Change Happen Workshop (E3 MACH) will be an intensive two-day experience for 12 participants, ranging from new assistant professors, to postdoctoral fellows and graduate students close to completing their degrees, all of whom face specific challenges as they begin their careers. Through a diverse set of hands-on activities, these educators will develop a number of skills—all grounded in theories of change—to become successful change agents within their academic departments and institutions.
Andrijcic says, "We believe that emerging educators often don't have a deep understanding of the challenges they are trying to solve, because of limited exposure to real problems."
Also organizing the workshop have been Sriram Mohan, associate professor of computer science and software engineering, and Matt Lovell, interim senior director of the Office of Institutional Research, Planning and Assessment and associate professor of civil and environmental engineering.
NSF has provided a nearly $50,000 grant to cover expenses for emerging educators to attend the workshop.
Rose-Hulman has been a leader in promoting change in undergraduate engineering education through several academic initiatives. Since 2012, the institute's faculty and administrators have organized MACH workshops and online seminars for higher education educators, department heads and college presidents in a variety of academic departments.
Find out more about the E3 MACH workshop and MACH initiative at academicchange.org.