Rose-Hulman Named Champion of Employee Learning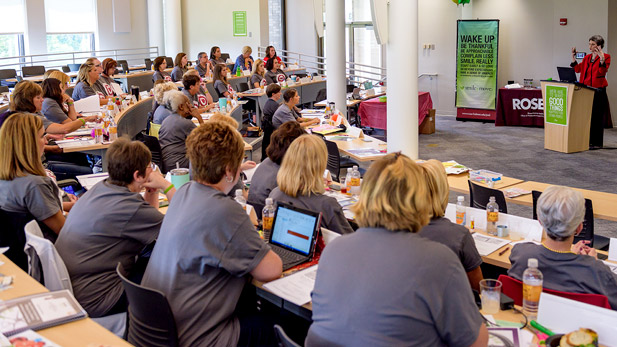 TERRE HAUTE, Ind. – In providing a culture of employee professional development and continuous learning, Rose-Hulman Institute of Technology has been recognized as a Champion of Learning by the Association for Talent Development.
Sixty employers throughout the country were recognized for their outstanding efforts in the 2017 Employee Learning Week campaign, with Rose-Hulman among only two colleges and universities being honored.
A total of 218 employees participated in Rose-Hulman's inaugural Employee Learning Week in early December 2017. They earned 886 training hours by completing 589 courses offered by the Office of Professional and Organizational Development (RosePOD).
Organized activities highlighted the important connection between learning and achieving organizational goals, according to RosePOD director Dwuena Wyre.
"Rose-Hulman realizes that a skilled workforce is an important asset in today's knowledge-based economy," Wyre said.
Employee Learning Week events included a Course of the Day available online or through instructor-led classroom sessions on the following topics: Achieving Your Goals, Connecting with Peers in the Workplace, Outlook Calendar Tips & Tricks, a Creativity boot camp, Leading and Working in Teams, and Creating Customer Value.
Special campus programs covered topics relevant to higher education. LeRoy Rooker, senior fellow at the American Association of Collegiate Registrars and Admissions Officers, facilitated a session on Family Education Rights and Privacy Act (FERPA). A Path to Publication workshop had faculty and staff members learning skills to promote scholarship through new media venues, and be better informed about copyright and contracts. This session was sponsored by the Center for the Practice and Scholarship of Education and Logan Library.
Also, online polls and trivia questions, internal and social media communications, and a mobile campus display highlighted employee testimonials on learning and development programs.