Visiting Orchestra Taking Step Back In Time
Monday, February 13, 2017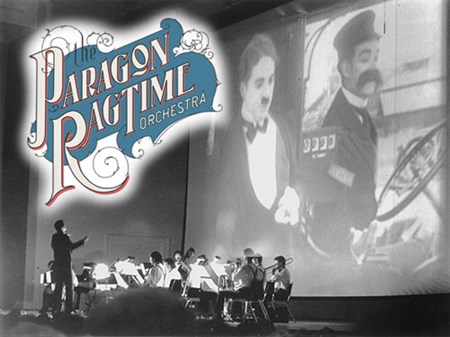 Syncopated Sound: The Paragon Ragtime Orchestra is the world's only year-round professional ensemble re-creating the ragged rhythm of the early 20th century that frequently accompanied silent cinema.
They've been heard on movie soundtracks and television programs, and received accolades from coast to coast. Now Paragon Ragtime Orchestra brings "America's original music" to the Hatfield Hall Theater for a Performing Arts Series show on Friday, Feb. 17, at 7 p.m.
As the world's only year-round professional ensemble re-creating the syncopated sounds of early musical theater and silent cinema, Paragon Ragtime Orchestra (PRO) has been called a "national treasure" by Fanfare magazine. The San Francisco Chronicle deemed one of the group's performances "vigorous and utterly charming."
The first half of their show will be a concert-style performance. It will be followed by an accompaniment to the showing of the 1922 silent comedy film A Weak-End Driver, starring Larry Semon. The orchestra will play along as Larry endures a series of comedic troubles while trying to catch a thief.
"(PRO) is an amazing group that transports you back in time when music was toe tappin' and lifted your spirits," says Dan Tryon, director of performing arts. "Our audience should also enjoy seeing the silent film that will be shown with the original orchestration.  It's especially fun watching the sound effects man."
In 1985, PRO founder and director Rick Benjamin discovered thousands of turn-of-the-century orchestra musical scores that once belonged to Victrola recording star Arthur Pryor. Inspired to preserve and perform the long-lost musical pieces, Benjamin formed the orchestra, which debuted in 1988 at Alice Tully Hall within the Lincoln Center for the Performing Arts. It was the first concert presented by such an ensemble at the famed New York City concert hall.
For nearly 30 years, PRO has appeared across the U.S. and around the world, performing at such venues as the Ravinia Festival (Highland Park, Ill.), the Smithsonian Institution (Washington, D.C.), the Brucknerhaus (Austria), the New York 92nd Street Y and the American Dance Festival (Durham, N.C.). The group's master choreographer, Paul Taylor, premiered his new dance show Oh You Kid! at The Kennedy Center in 1999 in a joint performance with PRO and the Paul Taylor Dance Company.
The orchestra has acquired fans throughout the world through its radio programs on the New York Times' WQXR, National Public Radio, the British Broadcasting Corporation and Voice of America networks. And Disney lovers may recognize the orchestra's sound as the outdoor theme music heard along Main Street, USA at Disneyland, Disney World and Disneyland Paris.
Tickets are $20 for adults and $15 for youths. Tickets are available online at hatfieldhall.com, by phone at 812-877-8544 or at the Hatfield Hall ticket desk Mondays through Fridays, from 10 a.m. to 5 p.m., and 90 minutes before the show. Complete show information is available at hatfieldhall.com.