Special Dream Big Event Spotlights Engineering
Wednesday, March 08, 2017
A bird's eye view from the top of the Falkirk Wheel: a rotating boatlift in Scotland. The Falkirk uses the same amount of energy as a washing machine and is designed to last 200 years. (Photo courtesy of the American Society of Civil Engineers)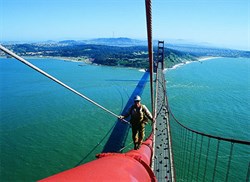 An engineer performs a routine inspection of San Francisco's Golden Gate Bridge. The suspension bridge was designed by a team of engineers in the 1930s. Up until 1964, it was the longest suspension bridge in the world. (Photo courtesy of the American Society of Civil Engineers)
A special showing of the cinematic adventure Dream Big: Engineering Our World this Saturday in Terre Haute will take viewers—especially youths—on a fun tour of inspiration through the visionary advances made by engineers.
The free presentation has been arranged by Rose-Hulman's Cecil T. Lobo student chapter of the American Society of Civil Engineers and the institute's Department of Civil Engineering.  The showing will take place at the historic Indiana Theatre, located at the corner of Seventh and Ohio streets in downtown Terre Haute.
The event will include hands-on science- and engineering-related activities for children of all ages from 2 to 3 p.m., before the showing of the 40-minute movie at 3 p.m. Youths attending the event will be eligible to win special door prizes.
"With more than 2.4 million STEM jobs estimated to need filling by 2018, this film and its message couldn't be any more timely or relevant to families," says Kyle Kershaw, assistant professor of civil engineering at Rose-Hulman. "We need to get kids interested in STEM-related careers. Hopefully, this movie will inspire the next generation of engineers across all STEM fields."
Narrated by Academy Award winner Jeff Bridges, Dream Big reveals how engineers have changed both everyday lives and entire societies: from the Roman Arch to the Great Wall of China, from one much-needed village bridge to the cosmic International Space Station, from underwater robots to death-defying rollercoasters, wind-defying skyscrapers and pneumatic tube vehicles that might one day zoom at 700 mph.
Also, Dream Big provides an up-close look at the Shanghai Tower's stunning glass façade, which twists in a triangle through 120 degrees as it climbs skyward. It also shows how engineers are using ingenuity, teamwork and limited resources to build community bridges in Haiti, and follows a Mississippi high school team as its takes on the challenge of competing in the Bridgestone World Solar Challenge across Australia. Find out more about the film at www.dreambigfilm.com.