Students Learn Nuances of Intellectual Property Law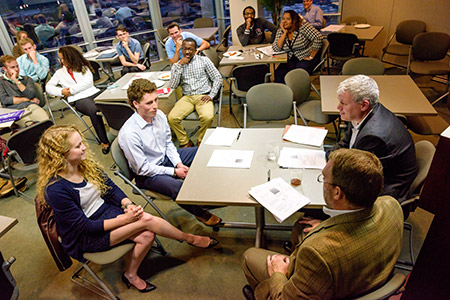 In the Hot Seat: Students defended aspects of their designs during a mock deposition that was part of this spring's Intellectual Property for Engineers course.
The word "adjacent" may have three distinct meanings in the Webster dictionary, but those definitions take on entirely new dimensions in the contentious legal world involving intellectual property infringement.
As in: Was the location of a wheel adjacent to, near, in the vicinity, or close to touching the rear axle in the product design under review?
That's one of the hairs lawyers split this spring when they educated teams of Rose-Hulman upper-class and graduate-level students on intellectual property nuances during a field trip they took to Indianapolis for their Intellectual Property for Engineers course.
Considered unique to an undergraduate engineering curriculum and taught by mechanical engineering and engineering management professor Richard Stamper, the course examines the influence intellectual property law has on the professional practice of engineers, scientists and engineering managers. Course topics included extracting value from intellectual property, patentable subject matter, novelty and loss of right, patent prosecution and litigation, copyrights, trade secrets and trademarks.
The lesson that didn't take place at Rose-Hulman (or even in a classroom) was the field trip to the Faegre Baker Daniels law office in downtown Indianapolis, where student teams gave "depositions" related to their attempts to design around a baby stroller already under U.S. patent protection. As they looked out at the city's skyline from a spacious conference room, the six student teams defended aspects of their designs under probing from practicing intellectual property attorneys William S. Meyers and Marcelo S. Copat. It was a friendly exchange; both attorneys are Rose-Hulman alumni.
"I wish this type of course had been available when I was in college," says Meyers, who earned bachelor's and master's degrees in optical engineering. "This is valuable training before these engineers-in-training get out and have to defend their ideas in real-world situations, where millions of dollars, companies' fortunes and people's livelihoods are on the line."
Copat, also a partner at Faegre Baker Daniels, is a 1984 electrical engineering alumnus who had extensive industry product development experience before entering law school.
Along with the deposition session, product liability legal expert Joseph Tanner discussed the valuable role engineers and scientists have in helping companies defend claims, asserting, "we need engineers to understand and appreciate the ramifications of what they do." Appropriate product testing procedures, documentation and safe alternate designs should be taken into account when designing any project, he says.
The course also featured campus guest alumni speakers: the engineer as an expert witness, with attorney Robert Waters (EE, 1984); trademarks, with attorney Bryan Hales; employment agreements and non-compete restrictions, with attorney James A. Coles; the patent examination process, with Robert W. Hodge, supervisory patent examiner at the U.S. Patent Office's Technology Center; and enforcement of the patent right, with attorney William A. McKenna.
"We discovered that there's more to engineering than just simply engineering a new product, and how important the engineer is in the design and testing process," says Malcolm Marshall, a 2017 biomedical engineering graduate. "There's so many things that we have to take into consideration, and the ramifications of those decisions are very important. These are the real-world, big-picture things that you may only spend a portion of one class period discussing in your core engineering classes. This dives much deeper to provide context and perspective."
Stamper is a registered patent agent for the U.S. Patent and Trademark Office and has served as an expert witness in both patent and product-liability disputes. He started teaching the course in 2008 and it has been offered biennially to students in all academic majors. The design-around-a-patent exercise, with student teams defending their projects before practicing intellectual property lawyers, is an element added to the class in 2012.
"I love teaching this class because it is so useful to future engineers and scientists," remarks the 1985 mechanical engineering alumnus. "In many of the courses I teach, I help the student make incremental improvements in things that they already are familiar with, like computer-aided design. But in (Intellectual Property for Engineers) the students come in with a blank canvas and come away with a better picture of the professional practice of engineering."