Associate Dean Kay C Dee Named Inspiring STEM Leader
Wednesday, August 16, 2017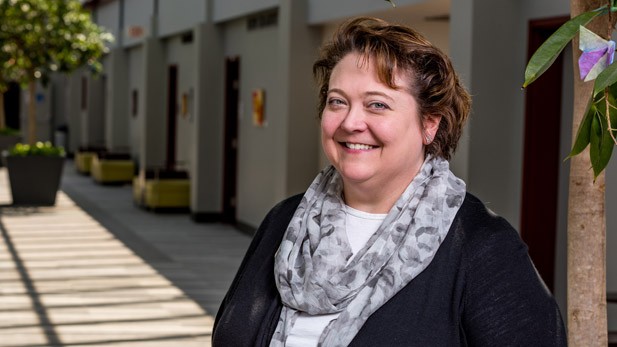 Women were a rarity in engineering when Kay C Dee was an undergraduate student--it wasn't until her senior year that she had a class taught by a female engineering professor. Back then, Dee was a first-generation college student who just managed to scrape together enough scholarships and loans to pay tuition bills each year that were always higher than her single mother's annual salary. 
With few female STEM role models, she had to rely on her own determination and never-say-die attitude to make headway in a male-dominated field. Now, Rose-Hulman's trail-blazing associate dean of learning and technology and professor of biomedical engineering is being recognized for creating wake of opportunity and encouragement. She has been selected an Inspiring Leader in STEM by INSIGHT Into Diversity magazine.
The 2017 Inspiring Leaders of STEM Award recognizes education professionals from underrepresented groups for making a difference in STEM fields through mentorship, teaching, research, and organizing successful programs and initiatives. Dee will be among 40 people featured in the September issue of the magazine, the largest and oldest diversity and inclusion publication in higher education.
"Resilience, grit, focus, creativity and a mischievous joy in working around the system—and then making the system better—have kept me going," says Dee, a member of the Rose-Hulman faculty since 2004. "I am delighted to see the increased diversity of STEM students today. We have more work to do to create inclusive STEM learning environments, and creating a broader range of engaged STEM professionals and educators will help achieve our goals."
Dee is one of eight female professors in Rose-Hulman's Department of Biology and Biomedical Engineering, which has a percentage of female students that's higher than the national average of gender diversity in undergraduate engineering program enrollment. She has been a longtime participant in the Engineer Girl website, regularly answering questions posed by young women around the country who are interested in learning more about biomedical engineering.  
Professionally, Dee has been named a Fellow of the American Institute for Medical and Biological Engineering, based on her specialization in tissue-biomaterial interactions. Her work elucidated initial approaches in what is now a well-established field of research: the chemical modification of biomaterial surfaces to encourage clinically-relevant cellular functions. As this field grew, relevant educational materials for students were needed, so Dee co-authored an undergraduate textbook that has become a highly cited publication among education colleagues.
Dee also is a founding member of a Rose-Hulman faculty group that has organized Making Academic Change Happen workshops, bringing research-based change strategies and skills to higher education faculty and administrators in the United States and around the world.
"We know many of those working in STEM fields, especially those from underrepresented groups, are not always recognized for their success, dedication and mentorship to others," remarks Lenore Pearlstein, owner and publisher of INSIGHT Into Diversity magazine. "We want to honor the many professionals who are inspirations to their colleagues, their community and to young people who may be interested in a future career in STEM. We are proud to honor these leaders as role models to all."
This is the second consecutive year that a Rose-Hulman faculty member has been recognized by the publication. Carlotta Berry, associate professor of electrical and computer engineering, was honored in 2016.