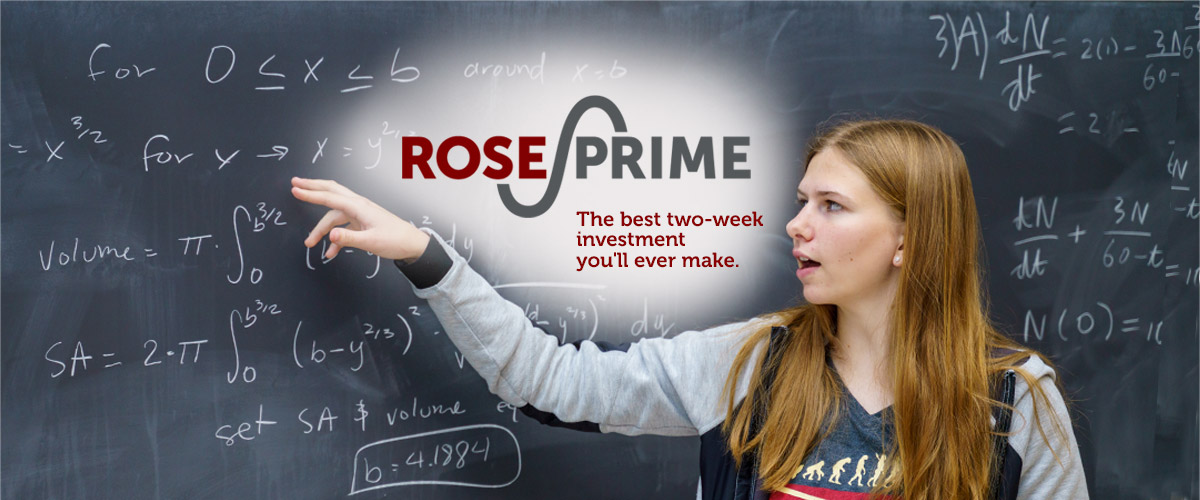 Would you train before running a marathon?
If yes, then you'll definitely want to prep for your first year at one of the nation's top-ranked (and most challenging) STEM colleges. 
A solid grasp of mathematics is essential for every program and academic major offered at Rose-Hulman. First-year students who are invited to participate in Rose Prime will receive two weeks of pre-orientation instruction designed to build upon and sharpen their existing mathematics skills, making them well prepared for a successful college experience.
Graduating from Rose-Hulman is a goal that reaps tremendous rewards. Investing two weeks in Rose Prime will help ensure you are in top shape when your Rose-Hulman education begins.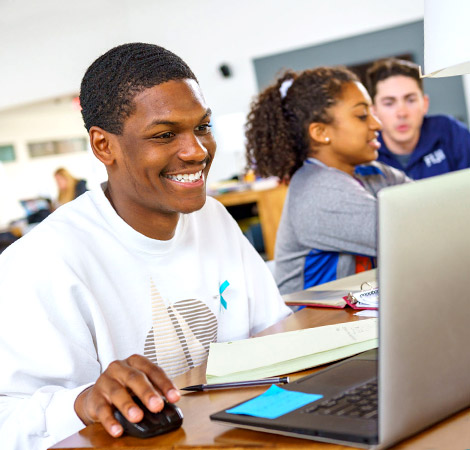 What Happens at Rose Prime?
You get a two-week head start on college life

You learn from Rose-Hulman's award-winning math faculty

You get to know other first-year students

You enjoy non-classroom fun activities

You find yourself prepared for an awesome college experience
Meet the Rose Prime Student Mentors
In addition to an awesome professor, Rose Prime features tutoring and mentoring from current Rose-Hulman students.
Frequently Asked Questions
What is Rose Prime?
Rose Prime is a two-week, on-campus summer mathematics program for selected students seeking to build upon their mathematics skills to better prepare for college success.
In addition to daily mathematics instruction, the program includes team and individual activities that serve as an early orientation to life as a Rose-Hulman student.
Why is Rose Prime right for me?
Mathematics is foundational to every program and degree we offer at Rose-Hulman, so proficiency in mathematics is essential to your success. Not all high schools prepare students equally well and some of our students benefit from sharpening their math knowledge before beginning their college career. 
Rose Prime is like stretching before running a marathon or inspecting an aircraft engine before taking a flight. It just makes sense.
Understanding how important mathematics proficiency is to student long-run success, Rose-Hulman teamed up with the Lilly Endowment to offer Rose Prime to selected incoming first-year students each summer. The two-week program is an essential primer for students seeking a refresher on mathematics concepts before beginning the big challenge of a Rose-Hulman education.
When is Rose Prime?
Rose Prime 2022 begins Tuesday, August 9, and concludes on Tuesday, August 23. 
What is the Rose Prime Schedule?
Weekday Schedule (subject to change):

7:00 am – 8:30 am Breakfast in the Union Cafe
8:30 am – 11:30 am Classroom Time
11:30 am – 1:00 pm Lunch in the Union Cafe
1:00 pm – 3:00 pm Homework Time & Professor Office Hours
3:00 pm – 5:00 pm Break & Activity Time
5:00 pm – 7:00 pm Dinner in the Union Cafe
7:00 pm – 10:00 pm Homework Time & Mentor Office Hours
10:00 pm – 11:00 pm Review Session (as needed)
11:00 pm – Curfew & Quiet Hours

Weekend Schedule (subject to change):

7:00 am - 9:00 am Breakfast in the Union Cafe
9:00 am - 10:00 am Exam
10:30 am - 12:00 pm Break
12:00 pm - 1:00 pm Lunch in the Union Cafe
1:00 pm - 4:00 pm Team Activity
4:00 pm Free Time (until Sunday at 5:00 pm)
Sunday 5:00 pm Catered Dinner & Exam Review
Who teaches Rose Prime?
The professor for Rose Prime is Dr. Josh Holden. A member of Rose-Hulman's award-winning Mathematics Department, Dr. Holden has written a book on the historical and present-day uses of cryptography and currently holds Rose-Hulman's Endowed Chair for Innovation in Science, Engineering, and Mathematics Education.
Dr. Holden will be assisted by a team of outstanding Rose Prime Mentors, current Rose students with excellent mathematics skills and a commitment to ensuring Rose Prime is a big success. 
How much does Rose Prime cost to attend?
Rose Prime is free of charge to students admitted to the program thanks to a grant from the Lilly Endowment and supporters of Rose-Hulman's mission of student success.
Where will I live during Rose Prime?
Where will I eat during Rose Prime?
Rose Prime students will receive daily meals from Rose-Hulman's outstanding food service, Bon Appetit, and eat most meals in our dining hall inside the Mussalluem Union. Meals are included in the program, so there is no charge to Rose Prime students.
Who is eligible for Rose Prime?
All incoming first-year students accepted to Rose-Hulman are considered for the program so it is not necessary to apply. Based on application materials and other information, a selection committee will choose a cohort of students to be invited into the program each year. 
Do Rose Prime students participate in orientation week?
Yes. Rose Prime students will participate in Orientation Week for all first-year students, beginning August 26.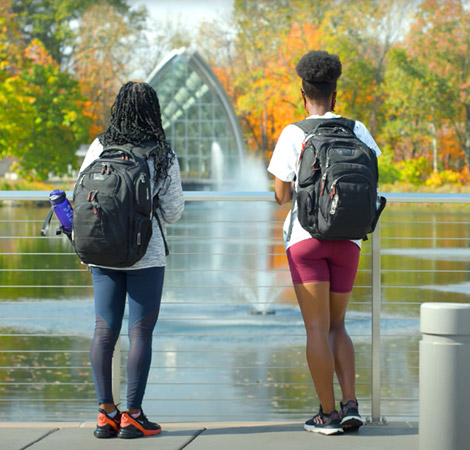 Student Experience at Rose-Hulman
Life at Rose-Hulman will open new doors to amazing adventures academically, socially and after you graduate. Check out a little of what life is like on our campus.
Sarah Forbes, Rose Prime Coordinator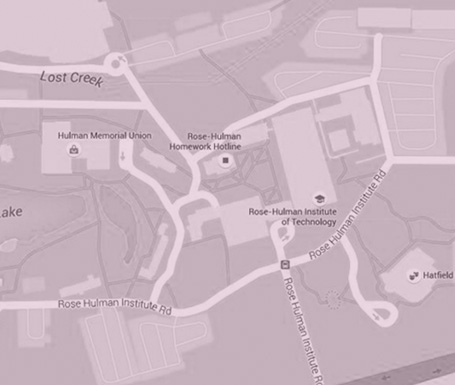 See where we call home.
Rose Prime
Rose-Hulman Institute of Technology
5500 Wabash Avenue
Terre Haute, Indiana 47803
Send us an email