Rose-Hulman Students Combine Sustainability Coursework with Study Abroad Experience
Wednesday, August 09, 2023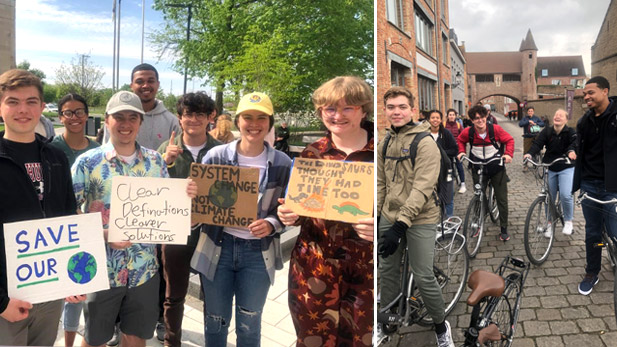 Alex Lefever, a Rose-Hulman junior majoring in civil engineering, was excited to learn about sustainability — in the classroom and across the globe. Through this experience, Lefever saw firsthand how vital learning about sustainability is to his future as a civil engineer and as a human being. 
During the spring 2023 quarter, Lefever was one of 14 students who spent five weeks on campus learning sustainability challenges, concepts, and problems. During spring break, the students flew to Belgium and the Netherlands to explore the subject in person.
Humanities 130: Introduction to Sustainability, the ground-level course in Rose's sustainability minor, surveys the fundamentals of sustainability in cultural and scientific contexts, exploring humans' material wants and needs against our capacity to meet those wants and needs responsibly, measuring consumption and production. Students learn the basics of ecology, climate change, life-cycle analysis and systems thinking.
The class was taught by Professor of English Mark Minster, PhD, who is passionate about sustainability and says courses like this help students learn different kinds of problem solving, which allow them to find meaning in helping the world.
"Students tend to think more about the end goal of having to get a job and earn money; so, the learning becomes transactional," said Minster. "But education is more than transactional; it can also be transformational. A class like this can make the transactional transformational."
One of the ways Minster teaches students core concepts through a sustainability-themed Dungeons & Dragons game. Students create fictional characters whose traits line up with learning outcomes like data numeracy, ecological literacy, and civic engagement. Students make choices for their characters, including where they work, live, proximity from home to work, what they eat.
The centerpiece of the course was the study abroad opportunity in which students learn from an intensive week in Dutch and Belgian cities and regions what they can do differently at home. The students, along with Minster and Associate Professor of Civil and Environmental Engineering Jenny Mueller, PhD, spent 10 days in Brussels and Amsterdam examining how other countries and universities incorporate sustainability into daily practice. Mueller helped design the course and plan the trip. 
Four institutions welcomed these Rose-Hulman visitors to their campuses to demonstrate sustainability in action: Ghent University (UGent), KU Leuven, Leiden University and TU Delft. Minster hopes these relationships will continue to deepen so that Rose students and faculty may eventually work on projects together.  
Ghent University in Belgium is known for its Green Hub, a student-run center for sustainability, projects and events. Students, faculty and staff from Belgium's KU Leuven showed the class around their engineering campus, including a state-of-the-art greenhouse that houses the world's largest collection of banana DNA, which researchers use to preserve biodiversity.
Rose students explored De Ceuvel, a North Amsterdam neighborhood-scale experiment with phytoremediation and closed-loop energy systems. Designers built a community of houseboat offices, powered by closed-loop energy systems and connected by raised walkways, over land that was made toxic by industrial pollutants. The De Ceuvel land was secured for a 10-year lease after a group of architects decided to turn the site into a regenerative urban oasis. The current project may be limited by its lease term, but students came away from De Ceuvel able to articulate the advantages and disadvantages of a sustainability model.
Researchers from Leiden University in the Netherlands gave students the opportunity to explore one of its sustainability projects with local farm communities. The Polder Lab project is an area of farmland that exists below sea level and is threatened by sea-level rise and salinization. Researchers are working to develop 21st century agricultural models on this land to continue to farm and allow people to eat while building soil and not depleting its nutrients.
At TU Delft, one of the nation's leading engineering schools, Rose students were introduced to research about vertical farming in urban planning. Students explored the school's Green Village where the university community demonstrates their projects in sustainable innovation, including a battery-charging sidewalk and hydrogen-powered homes. 
For many of the students, one key takeaway from their European adventure was biking and seeing how sustainable transportation options are so readily available. The Rose group biked in Belgium and the Netherlands, taking advantage of the countries' bike ferries and bicycle highways to ride as far as 50 km (31 miles) in a single day.
For Lefever, the most memorable part of the trip was biking through Leiden and experiencing the robust bike lane networks, especially growing up in the U.S. where the built environment is designed almost exclusively for cars.
"The dichotomy of car-dependent infrastructure that is pervasive in much of the developed world versus the robust European pedestrian infrastructure was my biggest source of culture shock," said Lefever. "During our time on the European mainland, we didn't use a single private motor vehicle. And in no way did that hinder our experience, only enriched it."
The class with itslobal learning illustrates what Rose-Hulman offers students in the realm of sustainability. Minster hopes to teach Introduction to Sustainability with its travel component — and opportunities for transformative learning — again in 2025.