Globetrotting Ruth Hammond Ready to Impact Sustainability & Climate Change
Monday, February 06, 2023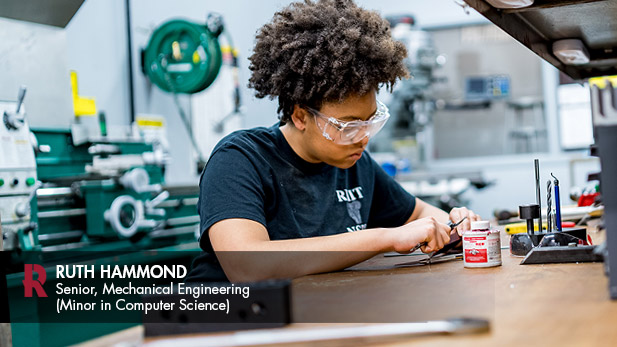 Five personality traits embellish the resume highlighting Ruth Hammond's accomplishments as a Rose-Hulman mechanical engineering student: Ambitious, passionate, determined, altruistic, and inquisitive.
What better way to characterize a student who through the worldwide Rewriting the Code program earned national academic distinction as an Apple Scholar. She also studied abroad at Sweden's prestigious Royal Institute of Technology. Following that, Hammond bridged material science and machine learning to automate the discovery process of an optimal carbon-capturing amine solution during a summer internship at IBM Research's Future of Climate Division.
Additionally, Hammond has participated in the Google Computer Science Research Mentorship Program, completed courses offered through the worldwide NVIDIA Deep Learning Institute, and been an AnitaB.org Grace Hopper Conference Scholar to attend the world's largest gathering of women technologists.
If that's not enough, she has been committed to improving gender and racial diversity in science, technology, engineering, and mathematics (STEM) by organizing events through Rose-Hulman's student chapter of the National Society of Black Engineers to expose STEM topics to disadvantaged seventh and eighth grade students in the Indianapolis area. She also has provided workshops that passed along effective study habits to incoming first-year minority students. These efforts have increased first-year retention of African American students on campus. 
Talk about someone who has made the most from her college career, earning Dean's List academic honors in the process.
"I have taken full advantage of every opportunity that has been afforded me, and fortunately there have been many," said Hammond, a native of Birmingham, Alabama. "Coming into college, I had an idea about the broad end goal (regarding an engineering career) but didn't know how to get there. Rose-Hulman has helped me explore, figure out my strengths and weaknesses, and pushed me to chase new opportunities and provided a skill set that's proven I can do more."
On campus, Hammond has conducted computational fluid dynamics research with a professor and she's spending her senior year helping student teams develop a prototype of a wrist-worn emergency alert system for deaf and hearing impaired persons. Another class project is striving to make drone flight guidance technology software more publicly accessible.
And for the future Hammond is looking ahead to impacting sustainability and climate change by studying machine learning or high-performance computing in graduate school, possibly at an international university, and spending this summer in a postgraduate research program related to dynamics at the Department of Energy's Los Alamos National Laboratory.
"My sustainability and computer sciences studies in Sweden fundamentally changed the way I view and interact with the world," said Hammond. "I was able to develop critical skills such as self-awareness, adaptability, and intercultural communication in addition to making lifelong friends. Apple's support enabled me to be a well-rounded engineering professional and clearly see how I can use my career to benefit society."
Her study abroad efforts were supported by the Center for Global Engagement. 
Through Rewriting the Code, a global non-profit organization that's empowering women in technology, Hammond has engaged with companies such as Figma, Datadog, Apple, Goldman Sachs, and Duolingo to provide ideas on how they can better attract and support underrepresented students in technology. She asserts that experts of various ethnic and cultural backgrounds are necessary to understand machine learning and apply their expertise in technological settings.
"I wanted to become a well-rounded researcher and engineer. That's why I wanted to study abroad. It has set me apart. Because of the skills and tools I have gained, along with learning various cultures, I have become more resilient, adaptive, and comfortable in uncomfortable situations," said Hammond, who serves as a Rose-Hulman International Ambassador and contributed to improve campus sustainability efforts through the Engineers for a Sustainable World student organization. "These cultural competencies provide the skills and mindset to work to solve the world's hardest problems, now and into the future.
"Many people at Rose-Hulman have seen my potential and pushed me to dream past what I even thought was possible. Our mechanical engineering professors are preparing us for current career fields and those that don't yet exist. These valuable educational experiences have enabled me to really figure out what I want to do and how I can best leverage my career toward mitigating climate change and bringing new approaches to sustainability in whatever field I choose."