Electrical Engineering Senior Clayton Scheurer Launches Smart Farm Solutions Start-up
Thursday, February 09, 2023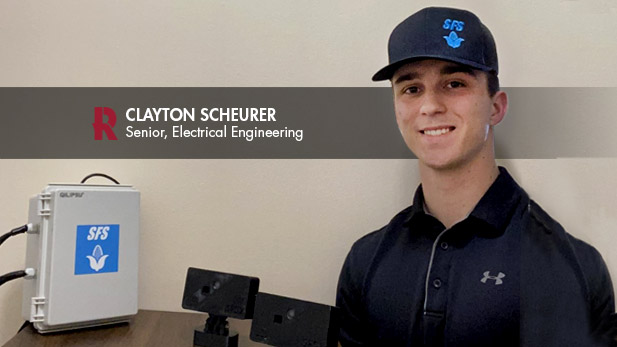 Clayton Scheurer came to Rose-Hulman to become an engineer, but the senior electrical engineering major knew his path would take him back to his deep roots in farming. 
Coupled with Rose's support of entrepreneurship, Scheurer launched Smart Farm Solutions, a business that gives farmers access to an engineering service that designs a smarter farm for a smarter future.
The Michigan native has been surrounded by farming all his life. Both of his grandparents own farms, and his father is a heavy equipment mechanic. While Scheurer knew engineering was in his future, he did not consider himself an entrepreneur until coming to Rose. 
"I was not expecting to get the type of access to entrepreneurship that I did," said Scheurer. "There are so many different opportunities, such as the Sawmill Society … and seeing how much Rose supports entrepreneurship and wants to help students achieve is awesome."
Scheurer's journey to entrepreneurship began in January 2022 when he designed a grain monitoring system. While that was not a new concept, it sparked other ideas and tools Scheurer knew would be useful to farmers.
"That's when I realized I wanted to do something I care about and make products that help people I know," he said.
Not long after, Scheurer launched Smart Farm Solutions.
"I noticed there were aspects of farming that got left behind in terms of technology," he said. "Things like keeping track of resources and having a visual way to do that. I wanted to come up with a solution that automated keeping track of storage so a farmer can look at his smartphone and find out." 
Smart Farm Solutions is an Internet of Things-based company focused on bringing automation to modern farming. Farmers use solutions, including wireless and wired equipment cameras and a digital tank monitoring system, which track inventory and report that information back to the smartphone application. This saves farmers time and automates a manual process.
An example of this is the SFS Tank Vision, a digital tank monitoring system designed for self-propelled sprayers, sprayer tender trailers and large chemical storage systems. As sprayers advance technologically, they still require the operator to fill the tank. By using ultrasonic technology, Scheurer calculates the volume of the tank, which is digitally displayed on Smart Farm Solution's TankVision smartphone or tablet app.
Since the launch last year, Scheurer has six SFS Tank Vision installations and has contracted with a Michigan equipment dealership to distribute equipment cameras. He is currently designing two new Smart Farm Solution products, including an irrigation pivot tracking system and a large-scale tank monitoring system that works with a cellular connection.
As a companion to Smart Farm Solutions, Scheurer recently launched the Daily Farmer blog after noticing many farmers were struggling to access reliable information about agriculture and the latest developments in the industry. He hopes the blog will empower farmers by providing information that will help them make better decisions and improve their operations.
During his time at Rose, Scheurer interned for Milwaukee Tool and AgGrowth International. He believes those experiences helped him see agriculture from a different lens and provided a foundation for his start-up.
"I made some great relationships with people that were well-versed in the new technology with agriculture," he said. "Both internships exposed me to the fast-paced world of industry. Having that experience helped me with my company knowing what industry expects from a company like mine."
Scheurer accepted a job with John Deere after graduation. He will work in the company's utility tractor plant in Grovetown, GA. He plans to continue running Smart Farm Solutions and believes his start-up was a factor in getting the job at John Deere, as it showed how passionate he is about the ag industry and helping farmers.