Chemical Engineering Names Winter Quarter 2022-2023 Noel E. Moore Achievement Award Recipients
Wednesday, February 15, 2023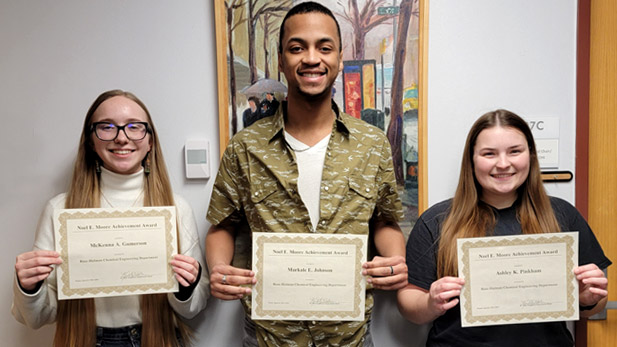 The Department of Chemical Engineering has announced the winners of the Noel E. Moore Achievement Award for the winter quarter 2022-2023.
The winners are sophomore McKenna A. Gumerson, junior Markale E. Johnson, and senior Ashley K. Pinkham.
Each quarter, the department recognizes academic excellence on the part of our students. The awards are named in memory of Professor Noel E. Moore, an outstanding educator and faculty leader on campus for 30 years. Moore served for a decade as head of the Department of Chemical Engineering, was an early leader of Operation Catapult, and was a key advocate for making the institute co-educational. He was named an emeritus faculty member after his retirement in 1998. He passed away in 2018.
WINTER QUARTER 2022-2023 NOEL E. MOORE AWARD WINNERS 
McKenna A. Gumerson (Sophomore)
McKenna Gumerson is recognized for her curiosity, enthusiasm, and love of learning both in and out of the classroom. Dr. Kim Henthorn, department head and associated professor, says that professors note that, McKenna brings a positive attitude to class every day and her work is always presented very neatly and thoroughly. "Her excitement about learning new things is contagious to those around her," Henthorn said. "Outside the classroom, McKenna balances her academics with undergraduate research, AIChE, AXE, and SWE. Congratulations, McKenna!" 
Markale E. Johnson (Junior)
Markale Johnson is nominated for a Noel Moore award due to the ambition and attentiveness that he displays in his courses. "He contributes positively to the classroom environment by asking clarifying and insightful questions that demonstrate his interest in the material and his deep love of learning," Henthorn notes. "He is willing to challenge himself and take responsibility for his academic progress. Great work, Markale!
Ashley K. Pinkham (Senior)
Ashley Pinkham is being recognized for her dedication and positive contributions to the learning process and the RHIT chemical engineering community. "Ashley makes the effort to do her work well," Henthorn shares. "She is an attentive participant in class and always willing to help. She brings enthusiasm to her tasks, whether that is in the classroom, the laboratory, or student organization and is dependable. The Department of Chemical Engineering is pleased to give Ashley the Noel Moore Award this term."