Biomedical Engineering Students Create Interactive Space Station Exhibit for Terre Haute Children's Museum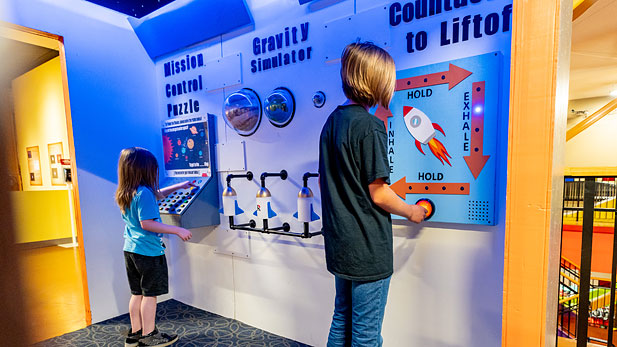 Children visiting the Terre Haute Children's Museum this summer are learning aspects of space exploration by interacting with educational aspects of a new exhibit created by four biomedical engineering students in hopes of encouraging interests in science, technology, engineering, and mathematics.
Also, the space station simulation exhibit has sensory-friendly features that were specially designed to be educational and fun for children with developmental disabilities – a goal of the project's client, the Arc of Vigo County.
"It's really interesting to finally see children using and having fun with the exhibit, by pressing all of the buttons, just as we designed," said Amelia Robinson, one of the project's creators. "I think it turned out beautifully … and the kids are going to love it."
Project teammates Sophia Koop and Eleni Woods were on hand to see children enjoying the exhibit after its opening in late May, just in time for the museum's busy summer season. Kylie Rathbun also contributed to the project but couldn't attend the opening event.
The 10-foot-long exhibit takes children of all ages through three stages of an exploration mission to the international space station: Countdown to Liftoff – Learning skills to prepare for starting the mission (with activities calming any nerves and providing relaxation techniques); Journey Through Space – Learning about gravity with three rockets of various weights going to different planets and their satellites (1 pound – Earth's Moon, 6 pounds – Earth, and 15 pounds - Jupiter); and Mission Control – Children learn while completing riddle-themed puzzles that, when successfully solved, returns them to Earth.
A space theme was selected because of America's current and future space missions being planned by NASA, SpaceX, Blue Origin and other organizations – returning humans to the Moon and possibly exploring Mars.
"I'm excited to see what kids do with this exhibit during the summer. It's kid-friendly, quite educational and fits in well with our other science-related activities," said Children's Museum Executive Director Susan Turner. "I have been blown away by this design team and how creative and professional they are. They've taken every point of view from us and others, went back to the drawing board in some cases, and came up with something that meets all our needs."
One of the team's challenges was the tight production timeline, according to Woods. The design phase took several weeks during the winter academic quarter, and the students then had 10 weeks this spring to build its interactive elements and finishing touches in the campus' Branam Innovation Center. Then, the massive project was moved to the middle of downtown Terre Haute and placed in its location on the museum's third floor.
Also, the students had to be creative in designing something that would be fun, educational and useful for all children.
"We had to look at things through a child's eyes and think about the colors, the interactivity of the buttons, and the messaging of the signage. We didn't want children to get frustrated at any stage within the exhibit," said Koop.
Arc of the Wabash Valley Executive Director David Ofsansky was pleased with the exhibit's outcome. The organization provided financial resources to support the project and its construction. "It's great and all student-done, too," he said when seeing the exhibit for the first time in late May.
Museum staff and administrators will gather children's feedback throughout the summer and then discuss any revisions or improvements when the Rose-Hulman students return for classes this fall. Signage and other further enhancements to the exhibit will be added before it becomes a permanent museum feature.
Biology and Biomedical Engineering Associate Professor Christine Buckley, PhD, points out that the project follows a development cycle for the department's capstone design activities culminating a student's educational career. Verification and validation are important stages of junior/senior year course work.