Alumnus Greg Hawkins' Leadership Skills Bringing DEI Change to Automakers, Suppliers and Communities
Wednesday, February 22, 2023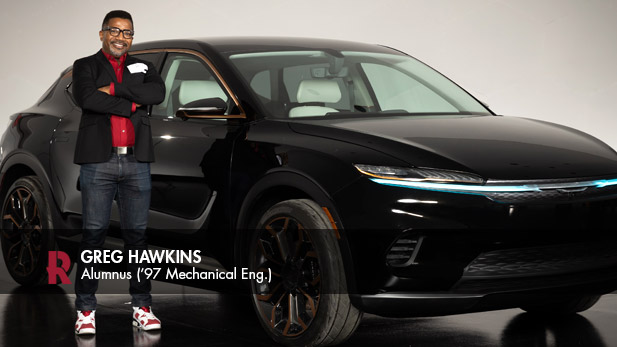 A self-motivated and experienced change leader of diversity, equity and inclusion efforts within the automotive industry, 1997 mechanical engineering alumnus Greg Hawkins is passionately putting a new twist to the familiar adage "If you give a person a fish, you feed them for a day. If you teach a person to fish, you feed them for a lifetime."
His adaptation: "If you teach a person to market, sell and produce the fish they already know how to catch, you're helping him feed an entire community."
For more than 15 years Hawkins has worked in sales and training, project design, process development, and supplier diversity with automotive manufacturers and parts suppliers – large and small – throughout the world. He's a Business Resource Group and Global Integration manager with Stellantis, one of the world's leading automakers and mobility service providers carrying brands such as Alfa Romeo, Chrysler, Jeep, and Peugeot.
As part of this role, Hawkins is managing diversity supplier development initiatives for the automaker. In 2022, Stellantis took the lead in establishing the National Black Supplier Development Program in partnership with the National Business League, a groundbreaking initiative developing and supporting Black-owned suppliers within the auto industry through education, connections and resources. The first 15 Black-owned supplier businesses were announced in 2022, 60% of which are based in Detroit, with more soon to follow.
For this and other efforts, Hawkins was awarded Automotive News' Notable Champion of Diversity honor at Stellantis last year. 
"I'm passionate about individuals' development and ensuring that everyone that comes into work every day delivers something great. While my passion here has always been cars and racing, my true passion was helping people within this community find that same level of commitment within the company," said Hawkins, who also is the former chair of the automaker's Gay and Lesbian Alliance. "The impact I'm having today is broader than me, broader than the individuals I'm helping, and broader than the companies I help. It is impacting directly the communities of kids like me who were looking to contribute to the world in a meaningful way."
Hawkins' educational strengths in math and science caused a high school counselor in Gary, Indiana, to recommend a possible career in engineering. However, he was unfamiliar with what engineers did specifically, other than possibly having to do something with cars. "And it would keep me from working in the local steel mills," Hawkins recalled during a recent online interview. So, when meeting a Rose-Hulman admissions representative at an area college fair, he asked, "Do you happen to have automotive engineering at your school?"
A mechanical engineer was born. 
On campus, Hawkins' personality, leadership and problem-solving skills flourished within the close-knit, hard-working and team-approach community of students, faculty and staff members. As a three-year residence life staff member, he helped incoming students get acclimated to college life and the rigors of Rose-Hulman's academic environment. Hawkins contributed to the planning stages as the college made the successful transition to coeducation in 1995, including being co-lead counselor for the first Operation Catapult summer program that accepted high school girls. He also founded the institute's chapter of the National Society of Black Engineers and resurrected student interest in the Team Rose Motorsports recreational club. 
After creating new business opportunities for Detroit-based suppliers with such auto manufacturers as General Motors, Ford Motor Company, Toyota and Visteon Automotive Systems, Hawkins spent two years as a technical assistance engineer with Ford before having a variety of engineering and management roles with Fiat Chrysler Automobiles for more than a decade. The automaker merged with Peugeot maker PSA Group to form Stellantis in 2021. He's now specializing in project management between cross-functional teams that are leading change and is transitioning into business and organizational development.
Stellantis' National Black Supplier Development Program major goals are to build a growth plan and understanding financial stability. A new learning management system will connect the suppliers to companies and other businesses while providing opportunities for program participants to work with the automaker. Others joining in the initiative as corporate sponsors are Comerica Bank, Cummins, DTE Energy, Ford Motor Co., General Motors, Lear, Magna, and Toyota. 
"We're building a unique network of people and organizations that are committed to getting things done and making incremental change in the areas of diversity, equity and inclusion in the auto industry and other business landscapes. We're looking to change communities as well," said Hawkins.
This goes back to elements within his twist of the "teach a man to fish" adage.
He remarked, "When called upon to be a leader, you don't necessarily understand the entire landscape about what we're asked to solve, but it's necessary that we empower others to drive us to achieve any initiative. That happened in my role as a (Resident Assistant) floor leader at Rose, in NSBE and other student groups … It taught me how to be successful in environments where everyone might not look like me, think like me or come from the same background as me. I value individuals for who they are, what they bring to every task and what they're passionate about. I then leverage those qualities to drive success."
Earlier this winter Hawkins returned received the Office Student Affairs' 2023 Jess R. Lucas Alumni Leadership Alumni Leadership Award, recognizing a former residence life staff member for distinguished career achievements.
"My time at Rose-Hulman showed me that I can bring value to everything that I do," he said. "I know that if I'm going to make the impact that I want to make at this company and to help others see the success that I have had in my career, that it takes many different people, elements and situations to drive that success. I just happen to be lucky to come into an environment at Rose-Hulman that saw something in me and mentored me through an incredible educational experience. I always knew that I was never alone."