Student Entrepreneurs Develop and Pitch Ideas at Startup Weekend
Tuesday, November 08, 2022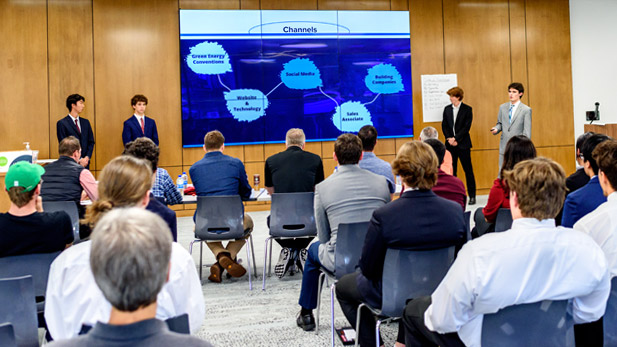 Entrepreneurial-minded Rose-Hulman students learned the nuances of creating a company and pitching business ideas to experts at the RISE Startup Weekend, which took place on the Rose campus in late October. 
Startup Weekend was organized by Techstars, the Rose Innovative Student Entrepreneurs (RISE) organization and the ESCALATE program, a learning community at Rose-Hulman that's focused on integrating entrepreneurship and technical disciplines.
Seven teams of 29 students spent approximately 36 hours developing a business idea. The event kicked off on a Friday evening with a "pitch your idea" session. Students then formed teams, voted for their favorite concept and immediately began to work. Industry mentors and entrepreneurs advised teams throughout the weekend, helping them hone their concepts. Students created feasibility studies, conducted market research, and some made prototypes of their product.
On Sunday evening, teams had five minutes to pitch their idea to a panel of judges, who in turn, had five minutes to ask questions of each team. The event concluded with judges selecting the top three teams and providing valuable feedback to all participants.
"My favorite aspect of the Rose entrepreneurial students is that they are attempting to solve complex real-world problems with their engineering skill sets," said Ethan Page, founder of Crossroads Events and co-founder of Bar Robotics. Page served as a judge during Startup Weekend.
"It's tough to take a look at an issue with so many variables and moving components and go for creating a solution that not only achieves the desired results but also accomplishes the marketing, distribution, and financial hurdles presented." 
A mixture of five clinically proven and tested natural ingredients that create a pre-workout supplement for athletes was the idea behind Supplements University. Currently, the workout supplement market is flooded with pre-workout products that are marketed with aggressive packaging and mainly toward weightlifters. Additionally, the products contain added ingredients that are not always tested and may pose health problems.
Team Leader Davis Rubel talked about the need for a pre-workout supplement that is natural, does not contain excess ingredients and can be marketed toward individuals in the more casual workout space. Rubel, along with team members Michael Adeli, Tulsi Chaitanya and Adi Sangole, distributed samples of their supplement to the judges and tested their product with gym-goers. Judges awarded Supplements University first place. They also received the "crowd favorite" award for the weekend. 
Solar Shingles created solar panels that are cost effective, aesthetically pleasing, easy to install, and customizable enough to be integrated into normal roof shingles. They were trying to solve the problem of replacing expensive solar panels that require expert installation and do not always aesthetically integrate with a house's look. Students Philip Pounds, Chris Lee, William Wittich and Andrew Cameron took second place for their idea.
The students behind Box Bank wanted to create a safe storage solution for college students. Rather than students having to constantly pack their belongings and fit everything into a car trip home or find an unsafe storage, Box Bank would allow customers to leave their packed items in their rooms and trust their safe and insured moving and storage company with their belongings. Judges awarded third place to Box Bank students Zach Nichols, Landon Cahoon, Parker Johnson, Logan Hill and Trey Housand.
Other student concepts featured rescue vests that support the weight of individuals who need to be medically lifted to safety while hiking trails in remote areas; a satellite to clean up space debris; anti-spiking jewelry that can detect date-rape drugs and alcohol level in drinks; and a virtual platform for students to find study partners in college.
"The Rose students did a fantastic job of creating solutions and learning what details need to go into a product and how the business needs to be structured for success," said Page. "Whether they were able to successfully put together all the details of their model for that particular business to be successful does not matter as much as the learning process they went through to find out what they do not currently know so they can carry that knowledge into future business endeavors."
The panel of judges included Rose-Hulman alumni Nick Birch (mechanical engineering, 2014), vice president of learning, Eleven Fifty Academy; Scott McLaughlin, (mechanical engineering, 1981), founder McLaughlin and Associates; Dean Moretton, (electrical engineering, 1987), CCO, Hydrogen Technologies; and Jeff Ready, (computer science, 1996), serial entrepreneur. Other judges included Evan Kubicek, entrepreneurship faculty, EIU and chief impact officer, Wayland; Matt Mershon, founder, Laundry on Us; and Page.