Sang Choi Receives Recognition for His Undergraduate Research as a Twice-Nominated Goldwater Scholar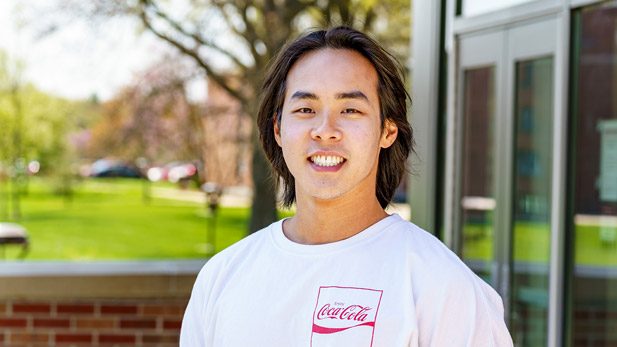 Sang Choi, a junior majoring in computer science and mathematics, has created quite a research repertoire in his three years at Rose-Hulman. He has participated in prestigious undergraduate research projects and twice been a candidate for the national Barry Goldwater Scholars Program. While this is an impressive accomplishment for any student, it's especially noteworthy considering Choi's first experience with computer programming was as a Rose student.
Choi, originally from Seoul, Korea, came to Rose from Xiamen, China, where he lived with his family for seven years. He wanted to attend a highly ranked engineering college in the United States; and as one of only 12 graduates in his high school class, he was especially drawn to Rose-Hulman's reputation for small class sizes.
He chose the computer science major and quickly learned how to program. Choi decided to add mathematics as a second major because he realized how important a role math plays in research work. During his first year on campus, Choi applied for several research experiences and received an offer from Carnegie Mellon University. 
During the summer between his first and second years, Choi worked on a project at Carnegie Mellon to design a new framework to make software systems safer. Currently with many software systems, if the user makes a mistake within the program, it is designed to auto correct the problem before the system and user goes into an irreversible "dangerous state." The problem, however, is that users are unaware they made a mistake because the system self corrects; this can have dangerous consequences and outcomes. Choi worked on a concept called consolidation, which created scenarios that, no matter what path or action a user took inside the system, it would always lead back to a safe state. He wrote a research paper and later presented it as part of an online conference. 
Choi continued his undergraduate research in the summer between his sophomore and junior years at University of Maryland. This project involved quantum computing and replicating work on classic computers that had previously only been done on quantum machines. This coming summer, Choi will return to Carnegie Mellon for a third undergraduate research project that involves working on a software system that will generate graphically appealing math diagrams for research journals and textbooks. To create these types of diagrams currently, researchers typically create their own art through Microsoft Paint or Photoshop, which requires the tedious manual placement of images. Choi's project will eliminate that manual work and enable the user to create scientific diagrams by simply entering a few lines of code.
Choi considers himself fortunate to be nominated for Rose-Hulman for the Goldwater Scholar, as only one-third of the applicants receive the undergraduate research scholarship and only four students are allowed to be nominated from each college in the nation.
He looks forward to starting work on his senior research project under the advisement of Joshua Holden, PhD, the Endowed Chair for Innovation in Science, Engineering & Math Education and professor of mathematics. The two will work on Pell's equation, examining work by previous mathematicians and apply quantum computing to solve the famous equation. Choi plans to eventually pursue a doctorate degree in computer science or mathematics. He has yet to determine whether his future plans will include continuing on a path of research, teaching or working in the industry.
Choi strongly believes Rose-Hulman has been the key to his undergraduate research success and credits the professors for their approachability to students.
"Being someone who started with nothing with no prior knowledge of computer science and math, I'm pretty sure that if I had gone to regular state school, I probably wouldn't have made it because of the lack of support and cutthroat competition," says Choi. "The people I'm indebted to the at Rose are those who helped me in those fields, supported me and given me advice and emotional support. I'm also very grateful to my friend, Will Fedlman, for his patience and understanding over the years."