Michael Fraczek Explores Alternative Treatments for Allergic Asthma as Sophomore at Rose-Hulman
Wednesday, March 16, 2022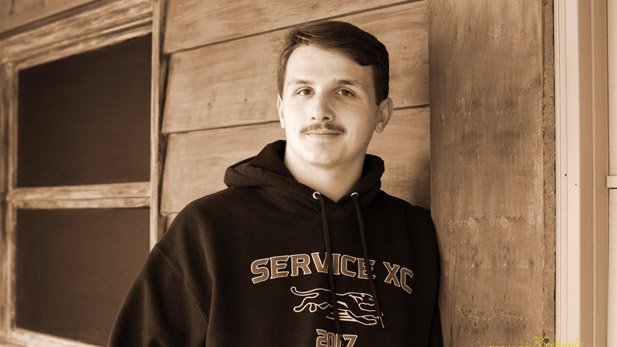 Michael Fraczek, a sophomore majoring in biology, has been invested in the study of microbiology from a very young age. When the Anchorage, Alaska native was 5 years old, he was diagnosed with Guillain-Barré syndrome, a rare autoimmune disorder that attacks a person's own immune system and causes muscle weakness. After experiencing paralysis, Fraczek was in the hospital for six days and received infusion therapy treatments. While the ordeal was frightening, it's also what started his interest in immunology.
"It was really fascinating that my immune system was so good and then it suddenly started attacking itself," says Fraczek, a member of the Noblitt Scholars Program. "So always, in the back of my brain, I would think, what if I could help make treatments that would help someone who has MS or Parkinson's Disease … and I can help make someone's life better, make their quality of life better." 
When Fraczek was in high school, he attended a research science internship through MIT where he met Dr. John Rickert, professor of mathematics at Rose-Hulman. Rickert suggested he consider Rose when applying to college. Fraczek wanted to attend a small school with high-quality research opportunities for undergraduates. After learning more about Rose, he knew it was the best choice to study molecular biology and gain experience in research.
Although only a sophomore, Fraczek conducts research that explores the use of antibody fragment proteins as an alternative to current therapies for allergic asthma. Under the direction of Dr. Stephanie Hill, assistant professor of biology and biomedical engineering, Fraczek examines how to change the molecular structure of a long-term medication to treat allergic asthma and make that treatment more effective and cost-efficient.
"One way we can treat allergic asthma in really chronic cases is with a drug, but the downside is you have to keep taking it because your body will continually create that allergic response if it doesn't have it," says Fraczek. "My research is looking at how we can improve the sustainability of this already-existing great drug by tweaking it molecularly … and as a result, you don't have to keep taking it. You take it once, or a few times, and then it stays in your system."
The idea of changing a drug at a molecular level to create a better alternative is commonly used in the creation of amino therapies for cancer treatment. It involves engineering the immune cells so the treatment stays in the body and proliferates. Fraczek is combining this novel approach to molecular medicine with what's already existing in current allergic asthma treatment.
Fraczek sought the guidance of Hill, who conducts similar research with protein engineering, at the end of his first year at Rose. He familiarized himself with her lab and procedures to comfortably work on the project throughout the summer after his first year and throughout his sophomore year. The process has been an incredible learning experience and foray into research, he says. With respect to working with Hill, Fraczek was thrilled to have a mentor he could learn from and help guide his learning experience.  
"I learned so much about doing independent research and the skills required with managing a lab and lab notebook," says Fraczek. "All these things that, for someone who wants to go to graduate school, are really very helpful. … I know that if I had gone to a school other than Rose, like a large research university, I wouldn't be doing a project like this. The room to do independent research at Rose is quite amazing."
Outside of researching in the lab and attending classes, Fraczek is involved in several area of campus life. He is the sophomore advisor at Scharpenberg Hall and assists first-year students transition to college by helping them create a community in the hall and on campus. He also works with the Safe Zone Project to become a certified trainer to help students and leaders learn how to be LGBTQ+ allies in the campus community.
Fraczek encourages prospective students not to overlook biology at Rose-Hulman. "The biology major really allows you to have access to the campus labs very quickly, and you'll have the opportunity to experience research as an undergraduate," he says. "Rose has the facilities and faculty who want do that for you and will guide you through your learning process."
After Fraczek graduates from college, he plans to attend graduate school and earn a Ph.D. in either molecular biology, immunology or related field. He hopes to work at a research hospital or in a research lab, most likely in the field of cancer or autoimmune disorders.