High School Students Keep Autonomous Cars on Track in Rose-Hulman Challenge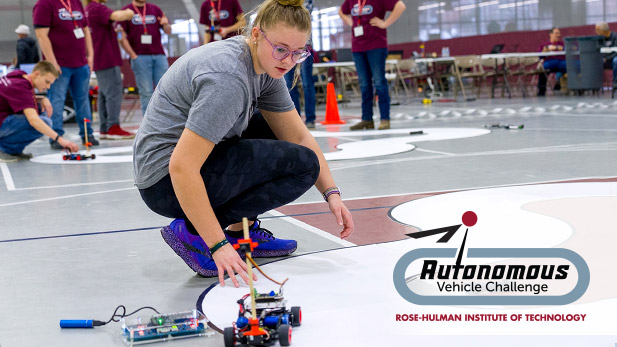 Keeping things simplistic was the recipe for success as high school students' miniature autonomous vehicles completed laps on oval-, clover- and random-shaped racetracks on Friday, March 11, in a high-tech challenge organized by Rose-Hulman's Department of Electrical and Computer Engineering.
Eleven teams from five high schools spent several weeks designing, building and testing vehicles that use a microcontroller and sensors to stay within the twists, turns and straightaways of the different courses, without any manual control, spread across the college's Sports and Recreation Center.
The cars completing multiple laps within the quickest time earned top honors – and lots of smiles and the admiration of fellow competitors.
"Getting our car around without leaving the track (a rules infraction) was our goal, not necessarily speed," said Karsyn Kikta, a junior from Northview High School in Brazil, Indiana.
A similar strategy was used by one of the teams from Terre Haute South High School. 
"Every little mistake can hurt your time by a minuscule of a second and those fractions can significantly impact your finish," said Jackson McFarland, a member of South's No. 1 team, consisting of three seniors. "There's a lot of fine tuning, problem solving and learning from failure that have gone into our car, and that was even before we even got to the competition."
The teams' vehicles featured tools developed by computing software developer MathWorks and the international semiconductor firm NXP. Then, they implemented engineering processes from Ford Motor Company. 
Marc Herniter, Rose-Hulman professor of electrical and computer engineering who developed the challenge, said, "These high school students are learning about autonomous technology that's being implemented into so many areas of life, including cars of the future. We're looking to make this competition even more realistic in the future."
After not placing in the oval track event, the day's first event, Kikta and Northview Robotics teammate sophomore Jayda Fletcher placed third in the clover-shaped races and then won the grand challenge, a random course filled with a combination of twisting turns and straightaway sections. That course was kept secret until the teams arrived at Rose-Hulman.
That gave the team second place in the overall competition. 
"To say I'm delighted (with the results) would be an understatement," said Fletcher.
Meanwhile, McFarland and teammates Gavin Henning and Christian Verst made the most of their technical adjustments to earn top overall honors. Their car was a model of consistency, placing first on the clover track, second on the oval course and third in the random challenge.
"Making adjustments was the key (to winning)," said McFarland.
Terre Haute South's No. 2 team shared third-place overall honors with Northview's Dark Knight team and the Trailblazer team from Clayton Bradley Academy in Maryville, Tennessee. South's No. 2 members were seniors Aiden Truby, C.J. Forney and Nolan Hults. Northview's Dark Knight team consisted of sophomores Porter Frederick and Nicholas Kaufman and freshmen Sam Eppert and Duke Strahla. Members of Clayton Bradley's team were senior Hannah Rasmussen along with freshmen Steve Chase, Seth Hales, Nick Karpankov, and Samuel Sluder. 
A team from Riverton Parke High School of Montezuma, Indiana, placed second in the random course event. The car was created by sophomore Hayden Hastings and freshmen Issabella App and Nova Collings.
Clay City (Indiana) High School also had teams participating in this year's challenge. 
2022 Rose-Hulman High School Autonomous Vehicles Challenge Results
OVERALL
Terre Haute South #1 
Northview Robotics
Clayton Bradley Academy (Maryville, Tennessee)
Terre Haute South #2 
Northview Dark Knight
CLOVER TRACK
Terre Haute South #1
Clayton Bradley Academy
Northview Robotics
OVAL TRACK
Terre Haute South #2
Terre Haute South #1
Northview Dark Knight
RANDOM TRACK
Northview Robotics
Riverton Parke
Terre Haute South #1