Chiu Reappointed Hulbert Biomedical Engineering Endowed Chair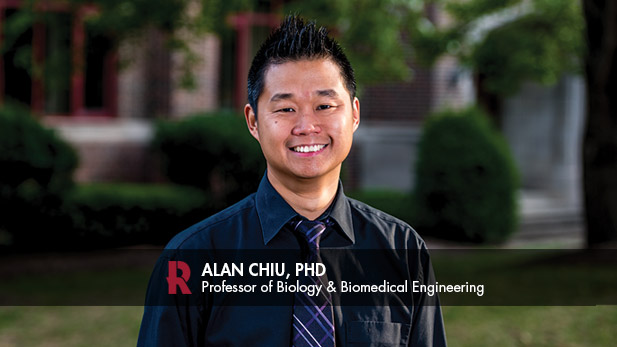 A reappointment as the Samuel F. Hulbert Endowed Chair in Biomedical Engineering will allow Professor Alan Chiu, PhD, to expand studies at Rose-Hulman in the development of brain-computer interfaces. These interfaces could improve prosthetic applications to help patients with severe motor impairments caused by neurological diseases or disabilities. His new three-year term begins September 1.
The Hulbert Chair recognizes the best and brightest of the institute's faculty who are committed to excellence and innovation in their fields and in educational pursuits, according to Ella Ingram, associate dean for professional development who coordinates the endowed chair program. Professors receive annual stipends and summer salaries to continue to excel in their specialized areas, lead conversations with other educators in their fields, and create opportunities for students and peers.
Chiu's scholarly work honors the legacy of Hulbert, who served as Rose-Hulman's 11th and longest-serving president. Hulbert was a recognized authority and pioneer in the use of ceramics in the design of orthopedic and dental implants and prostheses.
Working with Rose-Hulman students during each academic year and summer breaks, Chiu strives to develop new control strategies to improve the effectiveness of recovery efforts for patients with physical limitations following a stroke or other neurological implications. He also hopes to mitigate current limitations in prosthetic control systems outside of the laboratory environment. Meanwhile, students will implement outreach activities that encourage elementary and middle school students' interests in science, technology, engineering, and mathematics.
Chiu spent the past three years as the Hulbert Chair on similar initiatives which have had students making presentations at national and international conferences, showcasing their work to scholars throughout the world. These research activities support students' goals to attend graduate school or earn advanced degrees. 
Chiu states, "(Our plans for the next three years) build upon our previous work on incorporating cognitive loads and selective attention of the users to develop and improve brain-computer interfaces (BCI) multi-modal motor control strategies. By accounting and anticipating these unwanted artifacts caused by distractions and other secondary tasks, this work has the potential to expand the utilization of BCI-guided applications in a robust environment beyond the laboratory settings."
A member of the Rose-Hulman faculty since 2012, Chiu now is now a full professor within the Department of Biology and Biomedical Engineering. He has strongly supported undergraduate-level student research activities on campus, serving as a faculty mentor for several individual student projects and as past advisor for the institute's independent and summer project/research programs. Chiu earned bachelor's, master's and doctorate degrees from the University of Toronto.
In the classroom, Chiu teaches courses on brain-machine interfaces, neuroprosthetics, biomedical instrumentation and measurements, biomedical signal processing, and problem-solving in biological sciences and engineering.