AskRose Tutors Turning 'Huh?'s into 'Aha' Moments
Thursday, December 01, 2022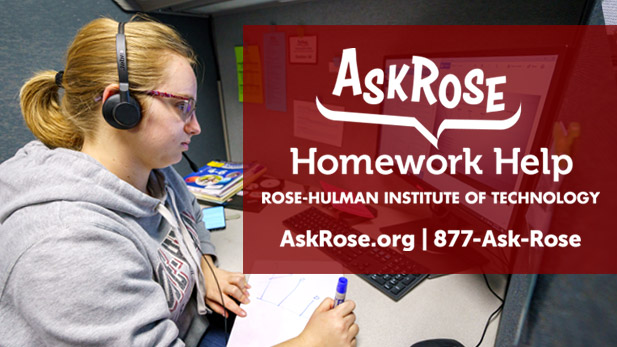 Middle school and high school children reach out to Rose-Hulman's AskRose Homework Help program after being unable to understand their math and science problems, and students with the free tutoring service turn those "Huh?s" into special "Aha!" educational moments – on both sides of the online, video, telephone, email, or chat sessions. 
In response to requests, as well as to better help students experiencing COVID-19 learning loss, AskRose has expanded service hours. Rose-Hulman tutors are available Sunday through Thursday from 5-10 p.m. (Eastern Time) to help students in grades 6-12 make sense of challenging math and science subjects. Tutors can be accessed via the AskRose website, AskRose.org, or by calling 877-ASK-ROSE (877-275-7673). 
Since starting in 1991, AskRose Homework Help has conducted more than 750,000 tutoring sessions. Expanding service hours will allow tutors to help even more students each night.
About 100 Rose-Hulman students serve as tutors during each school year after being specially selected upon recommendations from faculty for their technical knowledge and ability to communicate with students of all skill and comprehension levels. Approximately 20 tutors are available each night and they have access to textbooks and many other resources to lend valuable assistance. The AskRose Homework Help program is certified by the National Tutoring Association.
"Sometimes by the end of the call, you have a real connection with the student you are tutoring, and they are genuinely grateful for your help," said third-year tutor Erin McLain, a mechanical engineering senior from Avon, Indiana. "Some of my calls have lasted almost an hour just working on the same problem, so when you are able to work with someone and help them not just figure out that problem but find a way to help them solve it by themselves, that is always very fulfilling."
A special "Aha" moment for tutor Brayden Milner came when he helped a caller work through problems on polynomials. The next day, the computer science junior from Brazil, Indiana, learned from a grateful parent that the student had earned an A grade on an exam about polynomials. "It was the first time that I realized just how much of an impact we have at AskRose … It was such a cool moment to realize that we were making that much of a difference," Milner said.
Some tutoring sessions are learning experiences for the students who reached out for help with a particular problem and the Rose-Hulman tutor, who learns a new way of looking at a math or science problem.
That happened one night for Marc Alexis Fernandez, a senior mechanical engineering major who is in his third year as a tutor. A caller asked for help with an algebra problem that involved using a method that Fernandez had never learned. As they tackled understanding the concept together, the Rose-Hulman student did online research into the method, which was a "shortcut" to solving that particular algebra concept.
"As I helped the caller in the process and going step-by-step through the basic method to use it, we literally made the "Oh!" phrase together, which assured me that I did my job right," Fernandez recalled. "During tutoring calls, not only do we help callers learn their concepts better, but we may even learn something new as well. After all, it is never too late to learn something new."
Junior biomedical engineering major Jenna Myers cites that nearly every tutoring session has a moment where puzzled youths have reached a breaking point and need help from a tutor to understand the math or science concept or, better yet, solve the problem by themselves. That may be the secret behind AskRose's success. Rather than give students the answers, the service's tutors guide students through homework problems to help them better understand math and science concepts, the way they are taught in schools today.  
"To me that point is special, and I strive to reach it every time I answer a call," Myers said. "The first time I received a call from New York, I was shocked. I knew of the tutoring service as I went through high school (in Indiana), but I never knew how far it reached."
Later, Myers added, "As much as I help students, they also help me as well. The biggest thing I have learned working for AskRose is how to build communication skills. It can be hard trying to teach a math concept through the phone, but I have been given training and experience to strengthen my communication skills to accomplish this. These skills will stick with me and benefit my future."
Second-year engineering physics student Alisha Mastakar enjoys helping others learn and enjoy areas of science, technology, engineering, and mathematics. She wants to break down the misconceptions that math is a difficult subject, and help students understand critical-thinking skills needed to master concepts in a variety of subject areas.
"The best part of being a tutor is when a student is finally able to understand a concept that they were originally struggling with, and I can hear the pride in their voice," she remarked. "Some students greatly overcomplicate problems in their mind, and because of that approach it from the wrong angle. Helping them take a step back and view the problem slightly differently truly helps them gain a different understanding for STEM." 
Student privacy is always protected, and students are never asked for their last name or telephone number.
All AskRose Homework Help services are available at no cost to students and parents through Lilly Endowment Inc. support and financial assistance from Rose-Hulman.
The AskRose.org website also offers more than 500 resources available through videos and downloadable reference materials.