Toy Projects Become Personal for Engineering Design Students
Tuesday, December 21, 2021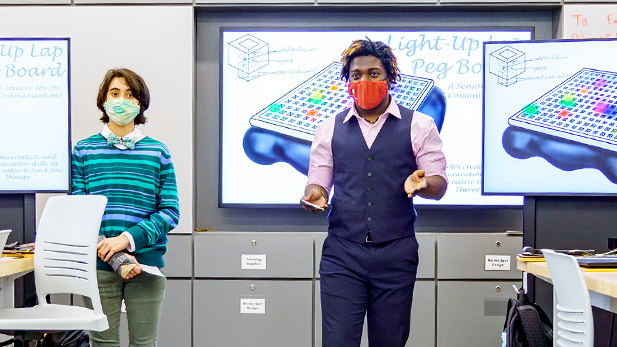 Some projects become personal.
That's what happened this fall when seven teams of first-year engineering design majors developed specially designed toys to help children with special needs.
Madeleine Klee was quite familiar with the dysgraphia neurological disorder that can challenge children to spell and put thoughts together. She suffered from the same disorder as a child.
"Because there weren't specific toys for children with dysgraphia, my mother went about making our own toys to help teach me learn my letters and how to write. So, I had a good idea about where to start and the best concepts to help children with dysgraphia learn," Klee said. "The most important thing is that we needed to keep it fun and interesting."
That mission was accomplished with Klee working with classmates Mindy Altschul and Ruben Jevremovic to create enlarged puzzle pieces that had multiple educational concepts. First, the inlaid letters are easily traceable to help children learn to draw them. Then, creative drawings associate each letter with a familiar object – a dog for the letter 'd', bee for the letter 'b' and a flamingo for the letter 'f' – to accentuate the learning process. Finally, the interlocking puzzle pieces allow for letters to be connected to form words for children learning to write.
"It's nice to use skills to help others," Klee said. "We had a basic concept, the (inset) letter, and kept adding to the possibilities with the drawings, colors and the puzzle concept. It was a lot of work, but we're satisfied with the result."
Other toy concepts that will someday be available at a lending library through Reach Services, a Terre Haute-based organization, are:
Falling Elephants: Zara Burns, Jacob Gray, Xiaoxi Luo, and Jason Shao developed an engaging and entertaining twist on a classic Tumblin' Monkeys game, with the aim to have the least number of elephants when the game ends. The main goal is to help children develop fine motor skills.
Shapes Cubed: This colorful nesting toy by Sebastien Hughes, Isaac Johanningsmeier, Matt Louat, and Chase Strother features a sphere inside a pyramid inside a cube. Its purpose is to help children with Down Syndrome practice identification of shapes, colors and textures.
Light Stackers: A lap board where children can insert pegs that light up individually. The toy was made by Nsiah Clark, James Freyne and Jester Moya to provide children a way to express themselves with the stackable pegs.
ClickyBot: This robot-shaped toy with interchangeable pieces that's specifically geared toward fine motor development and teaching emotional intelligence. It was developed by Anthony Campos, Thomas Galletti, Isabel Haute, and Gavin Meier.
Carnival Windup: Sofie Batiz, Stacia Brooks, Aaron Greve, and Jacob Kandel came up with a toy that winds a launching mechanism that launches a projectile into the air vertically, inspired by the "high striker" stands that one sees at carnivals. The toy focuses on children who have difficulties with fine motor control but is fun for all players. 
Motion Machine: Designed for children with Autism Spectrum Disorder, the toy causes visual stimulation through the spinning of a helix. Repeated movement of a handle allows a child to actively spin the colorful shape for entertainment. The toy was designed by Axel Johnson, Elijah Johnson and Austin Perry.
This is the fourth year that the engineering design program has had students developing toys for Reach Services and its clients. The process starts with students pitching ideas to staff members and visiting the clinic to get a better idea on children with special needs learn through playing with toys.
"It's always fun to see what the students come up with. They take our ideas and go with it," said Reach Services Therapy Clinic Director Tiffany Busenbark. "We have developed a great relationship with Rose-Hulman and the engineering design program. Our clients and their families are always excited to see something new in our lending library."