Indiana STEM Teachers can Participate in Sustainable Energy Summer Institute Boot Camps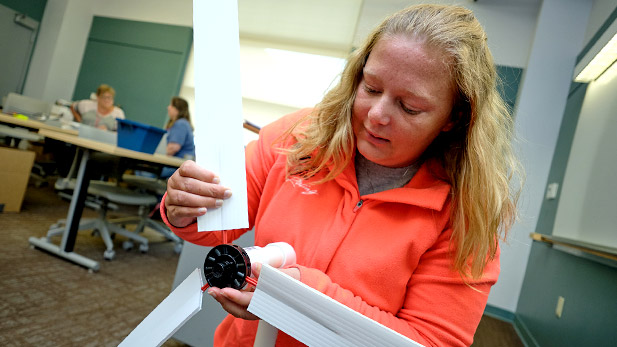 Science, technology, engineering, and mathematics (STEM) teachers in Indiana can learn ways to bring lessons about sustainable energy into their classrooms through an intensive "boot camp" experience this summer at Rose-Hulman.
Teachers in grades 4-12 who use sustainable and alternative energies in their curriculum can participate in either of two free workshops June 20-25 or July 11-16. The camps are being provided through the institute's Portal Resource for Indiana Science and Mathematics
(PRISM)
program, with support from the Duke Energy Foundation and Rose-Hulman alumni Becky and Frank Levinson.
Teachers can register online at the Rose-Hulman PRISM website:
www.rose-prism.org
.
Throughout classroom sessions, teachers will receive instruction, work together, and exchange ideas to develop academic standards-based, practical and comprehensive lessons that help their students learn about sustainable energies. There also will be a variety of vocational site visits to some alternative energy providers in Indiana. These visits will be conducted in accordance with current COVID-19 health and safety protocols.
Upon completion, teachers also will receive a kit of materials for lab activities and earn 45 professional growth points toward their Indiana teacher's license renewal.
There is no cost for teachers to participate in the workshop. Rose-Hulman is providing room and meals on campus. Priority will be given to teachers that have less than 10 years of teaching experience.
Preference for participation in the July 11-16 boot camp will be given to applicants who reside within a Duke Energy service area.
Since late 2002, the PRISM program has provided interactive digital learning tools and professional development workshops for Indiana teachers in STEM areas. Learn more at the
PRISM website
.