Alumna Amanda Bright's Creative Career is a Toy Story
Monday, December 06, 2021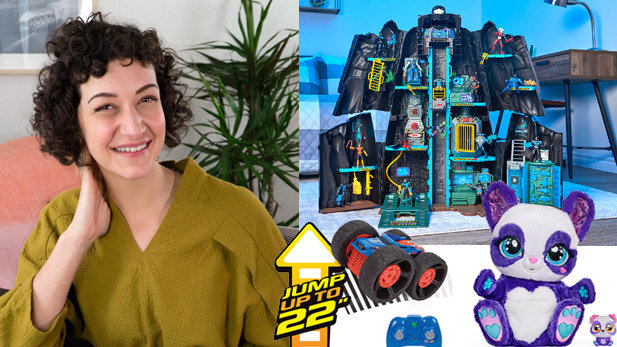 Every day offers the sense of adventure and wonder of Christmas morning when you work in the toy industry like 2007 mechanical engineering alumna Amanda Bright.
After all, who wouldn't like to play with Harry Potter's Hogwarts Castle or Batman's Batcave as a profession?
"What's not exciting about it?" says Bright, senior director of product development engineering with Spin Master Corp. The global children's entertainment company is best known for award-winning brands PAW Patrol, Kinetic Sand, Air Hogs, and Rubik's Cube. "The toy business is an extremely creative field, largely because we're trying to observe trends and then predict what children enjoy. As a result, we have to move quickly, and change is omnipresent."
She continues, "It's great for people like me who tend to get bored solving the same problem repeatedly. It's not uncommon for one engineer to support the development on dozens to hundreds of toys at a time."
For the 2021 holiday season, Spin Master's engineers, data scientists, and technicians have developed such next-level tech toys including Air Hogs' Jump Fury vehicle, featuring an ultra-lightweight design that allows it to jump up to 22 inches into the air (believed to be a first for an indoor remote-controlled vehicle); Peek-A-Roo, a plush panda/kangaroo with an animated pouch that magically reveals a baby inside; and the Batman Batcave a 3-foot-tall figure that transforms into a playset with 10 different areas to play, several interactive sounds and an elevator. 
"A toy is 'good' if it brings joy or furthers imagination. Really, it's all up to what a kid likes," says Bright, whose favorite toy, TOMY's Big Big Loader, piqued her STEM interests.
"For me, it was all about the process: the excitement around dumping the pieces out of the box, getting the motorized chassis running around the track, and then watching the balls move from each tiny construction vehicle to the next," she remarks.
With her Rose-Hulman degree Bright briefly worked in the orthopedics and aerospace industries before finding her STEM niche in toys product development. Nine years were spent with Mattel Inc. before moving to Spin Master late in 2017.
"I started as a product development engineer and have worked my way through most of the major toy categories – vehicles, play sets, role play, small/large dolls, fashion dolls, collectibles, and action figures," says Bright from her office in Los Angeles. "Our design team starts with a blank screen. They focus on finding white space in the market and coming up with the idea for the toy. It often takes the form of a sketch or quick breadboard model. The product development area then takes that concept and drives the feasibility. We develop the specifications, the preliminary cost estimates and pull together a schedule to support retailer timing."
The entire process generally takes approximately 18 months – from concept to shelf. Bright's team of 30 staff members from across the world works on multiple levels of a toy's development, including packaging.
"I didn't fully understand why product development engineers existed in the toy industry until I became one. And it wasn't until joining Spin Master that I was completely wowed by how technology can be integrated into toys since we're so innovation focused," she says. "At Rose, I noticed that the most successful students were those that partnered and collaborated and learned from each other. In toys, it's mandatory that you recognize and appreciate what everyone brings to the table – the team is truly greater than the sum of its parts, and the best toys and the most creative solutions come from the most diverse teams."
Complimenting her engineering career, Bright has become an avid runner and has completed at least one marathon annually since 2017. She ran two races within the same week in October of 2021.
------------ 
Amanda Bright's inspiring story as a mechanical engineer and marathon runner is featured in the new The Look Up Series, nonfiction books showcasing female role models in hopes of encouraging girls toward science, technology, engineering, art, and math (STEAM) career fields. 
The book "Amanda, Toy Engineer" shows young readers how Bright tackles problems and how they can start thinking like an engineer and how she turns an idea into a toy, then sketch their very own toy idea. Readers also discover how kids around the world play differently and how scientists study play.
Each title in the series, written by successful author Aubre Andrus, is a blend of biography, activity content and actionable advice while supporting the goal of closing the gender gap in STEAM careers. Find out more at thelookupseries.com.