Rover Robotics Team Sets Sights on Mars and Beyond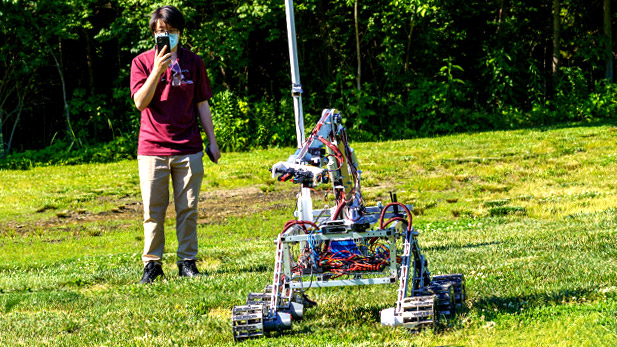 The engineering and scientific achievements of two professionally built autonomous rovers helping unlock mysteries of Mars have inspired the robotics interests of a Rose-Hulman student team whose own rover has made educational and technological pathways on Earth.
The Rover Robotics team was among 13 entries from five countries competing in the final round of this year's University Rover Challenge, conducted virtually from campus in early June. The competition originally had 88 student teams throughout the world designing and building the next generation of Mars rovers that could replicate aspects of NASA's Perseverance and China's Zhurong rovers currently exploring the Red Planet.
Rose-Hulman's robot could autonomously navigate through an obstacle course, including climbing a 30-degree incline, and its arm could be extended to pick up a toolbox and a variety of tools. Other technical aspects could collect soil samples for scientific testing. The team's effort featured elements of mechanical, electrical and software engineering and was completed within strict COVID-19 health and safety protocols.
"The biggest challenge that our team overcame, at least in the sections that I worked on, was creating a stable and robust method to control the rover over long distances without line of sight," says Electrical Team Leader Chris Comeau, a 2021 computer engineering and computer science graduate. "We were able to overcome this challenge by using high-power antennas combined with an open-source communication framework called ROS which enabled us to have the necessary communication capabilities for the competition."
Meanwhile, software challenges included finding ways for the rover to drive autonomously by using augmented reality (AR) technology, simultaneous localization and mapping. This required students to use an open-source AR tag detection module, a computer vision library and a mapping algorithm to assemble a 3D map of campus areas used for the competition.
"Whenever we hit a roadblock, we worked together as a team to find a solution," says Team Captain Colton McKay, a mechanical engineering major. "We took big strides forward this year and to achieve finalist status was a major achievement. We received valuable feedback from the (competition) judges that we can utilize next year."
Also playing key roles in the team's success this year were Mechanical Leader Kevin Chou, a 2021 mechanical engineering graduate; Software Leader Eric Chen, a software engineering, mathematics and computer science student; Science Leader Nothin Saravanapandian, a mechanical engineering student; and Arm Development Leader Yolnan Chen, a mechanical engineering student. The team included a dozen undergraduate students from all academic disciplines and hopes to expand membership in the future.
Team members have been inspired by the success of current missions for the Perseverance and Zhurong rovers on Mars—showcasing the realm of possibilities in robotics development. NASA's rover has launched the Ingenuity helicopter across the planet's atmosphere, has recorded the first audio soundtracks of Mars, and is now embarking on collecting the first sediment samples from another planet for return to Earth by a future mission.
"I have been amazed by the revolutionary helicopter device. It is not only a milestone of the space mission history but also an essential mark of the development of open-source software. The success of the rover and the helicopter has inspired me to contribute more to robotic software development," remarks Chen. He hopes to use a doctorate degree in Artificial Intelligence and natural language understanding to develop software that can make robots more robust and intelligent to solve real-life problems.
McKay adds, "We're always watching what NASA is doing and looking for ways we can incorporate their designs into our rover. Ingenuity is an amazing feat of science and engineering, and I think it will be one of the many defining moments from NASA in my lifetime."