WEB CALLS: Alumnus Brian Sutterer Connecting Sports, Medicine and Social Media
Thursday, December 24, 2020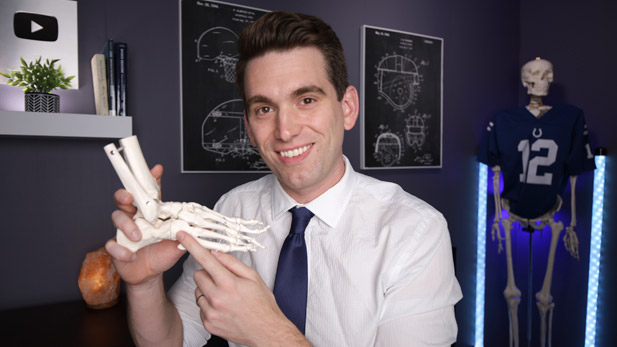 Alumni can turn to one of their own, 2011
mechanical engineering
alumnus Brian Sutterer, to get a unique perspective about the medical side of the world of sports. By combining a passion for sports and a desire to teach others, he is working to make learning about medicine and the human body fun and relatable.
And, those messages are coming through the web.
Sutterer, a resident physician at the world-class Mayo Clinic, is leading a new wave of doctors embracing social media, using YouTube videos to help casual sports fans throughout the world explore topics such as the knee injuries by National Football League stars Saquon Barkley and Nick Bosa early this season, or a variety of injuries suffered by National Basketball Association standouts like Kevin Durant (Achilles rupture), Joel Embiid (dislocated thumb), or Luka Doncic (sprained ankle). Then, there's an interesting investigation into claims by world-class bodybuilder Ronnie Coleman of once having less than 1 percent body fat.
The
Brian Sutterer MD YouTube Channel
has gained more than 275,000 subscribers and over 25 million views since launching in 2017.
"I was shocked with how well my first sports medicine video did. I saw a really unique opportunity to get people excited about learning by using their passion for sports and athletics to spark curiosity" says Sutterer, son of Civil and Environmental Engineering Department Head Kevin Sutterer. "You can reach an endless amount of people online and our world is getting more and more connected. I realized it's a growing area for educational content, as well. Plus, I'm still an engineer at heart and it's fun to learn about all of the technical aspects that are required to do well with web-based content."
A professional-quality studio in the basement of Sutterer's home allows for posting one to two videos per week, sometimes before the NFL or NBA game where the injury occurred has even concluded. Videos involving those sports, along with Mixed Martial Arts, are the most popular. He acknowledges soccer would probably bring even more viewers, due to its global popularity, but Sutterer doesn't closely follow that sport.
"It's important that I'm just as much a fan of the content as my audience is," he says.
Dissecting injuries combines Sutterer's interests in sports, medicine, and engineering, while an appreciation of teaching allows him to explain complex topics in simple and interesting ways. He spent a year as an engineer with Rolls-Royce before returning to Rose-Hulman for a
biomedical engineering master's degree
in 2013. A medical degree from the Indiana University School of Medicine followed in 2017 and he is currently in the final year of his medical residency training.
In the specialty of Physical Medicine and Rehabilitation, Sutterer joins colleagues in focusing on the prevention, diagnosis, and treatment of muscular, nerve, and joint disorders that produce temporary or permanent functional bodily limitations. That would include diagnoses such as knee arthritis, multiple sclerosis, spinal cord injuries, and, of course, sports medicine injuries.
"I love the specialty because we have a unique role in treating the entire patient and how their illness or disability affects unique aspects of their life. Every patient is different and requires a lot of creative thinking and problem solving to provide the right help," he states. "We also have very strong training in the musculoskeletal system, which involves a lot of biomechanics- and engineering-type concepts. Through YouTube I've learned so much about how to talk to patients and it makes my own continued education more exciting. I want to keep motivating people to learn and show them that learning can be fun. People who come to my YouTube channel know they don't need to have ever taken a science class to still learn something from my videos."