Staying Connected While Living Apart: Life on the Rose-Hulman Campus During a Quarantine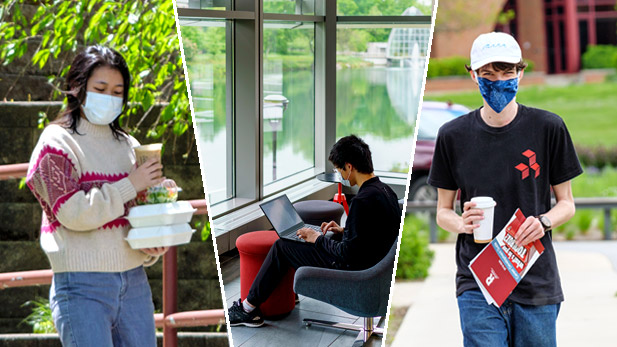 When Rose-Hulman closed its campus in March 2020 due to the rapidly spreading coronavirus and cases of the related illness known as COVID-19, most of the school's roughly 2,000 students headed for home.

But a few, about 50, had no place to go. Many of them came from distant countries where travel restrictions made their ability to return to campus uncertain. Others lived in places with poor or nonexistent internet connections, making remote learning impossible.

Still others, such as Alison Hamblin, faced different challenges. Hamblin's home county of Santa Clara, California, was basically closed by the time students were asked to leave campus on March 16. The county was the first coronavirus hotspot in California and one of the first in the U.S. Officials there imposed strict stay-at-home orders in mid-March, making remaining on campus the best option for Hamblin.

"The isolation is really quite depressing," the first-year civil engineering major said while seated in a mostly empty Mussallem Union just days before the end of the unusual spring quarter. Hamblin, like the other students remaining on campus, had spent the past 41 days on a strangely quiet campus during a time of year when it would normally be bustling with activity. Two of her friends also on campus, one from India and the other from China, helped her stay connected, but the dearth of face-to-face interaction could be hard to take.

"I think what sets Rose apart is its community. That's the reason I chose Rose. When you remove that, it's a lot harder," she said.
All students staying on campus spent the quarter living in the Apartments residence halls. Students doubled up in two-bedroom suits that shared a single bathroom and kitchen. The internet helped them stay connected with each other and the outside world. Hamblin, for example, joined the Radio and Art clubs and, like many other students, played a lot of Minecraft, a popular video game.

"We created a campus-wide Minecraft server for any Rose students or alumni to join," said Alex Walker, a graduating senior who also remained on campus during the quarantine. "I have been spending a lot of time online talking with my friends over Discord [an online community-building app] and attending all kinds of online events Rose has been providing from normally scheduled Residence Hall Association meetings to trivia nights."

Many students also used the quarter as an opportunity to try new hobbies or pursue old interests. Steven Xia, an engineering design sophomore from China, took up running and biking to stay in shape and honed his skills as an amateur photographer. He also found himself participating more in his classes.

"I'm the kind of person who doesn't really talk in class in real life, but I feel more comfortable typing online and that gave me a chance to express my thoughts," Xia said. "I may get a better grade because of that, but that's something I am not sure of for now."

The biggest challenge for the students remaining on campus was the same as for their colleagues at home: passing their classes. Rose prides itself on the personal attention students receive from their professors, and remote learning made that more challenging. Still, many faculty members stepped up and devised creative ways to stay connected with their students.

Hamblin, for example, praised Professor Jim Hanson for going the extra mile to ensure she understood concepts from her statistics course, and Xia credited professors Anne Watt and Patsy Brackin with helping him have a successful quarter. Members of the Student Affairs staff, many of whom worked on campus during the quarantine, also earned applause for their efforts.

"Erik Hayes [vice president for student affairs and dean of students] and the housing staff have been great," said Nilesh Dey, a senior mechanical engineering major from California. "They've been with me every step of the way. Another example is (assistant director of residence life) Eric Liobis reaching out to students individually earlier in the quarter to ask how we were doing and offer updates on Rose's campus activities. Even though it was a small act, I really appreciated how much effort all the staff put toward making each student feel at home and happy."

Staying active and fit was another challenge for students remaining on campus, as it was for people suddenly working from home with gyms and pools closed virtually everywhere in the United States. Again, Rose students found ways to cope, from walking on the nearby Heritage Trail to biking.

"When I do get time away from the computer, I like to skateboard around a little bit," said Clark Hageman, a senior chemical engineering major from Chicago. "It helps me stay active, and I can work on some tricks without feeling embarrassed when I end up on the ground."

Other students found new hobbies to make the best of their situation, from learning to cook to teaching themselves card tricks. They also praised Bon Appetit, the campus food service provider, for preparing exceptionally good meals during the quarantine.

"Not gonna lie, the staff at the Bon was killing it," Hageman said. "The in-house potato chips, the sushi, and the BLTs all served with a smile go a long way to raise spirits."

Good food and exercise routines aside, the quarantine quarter nevertheless showed the importance of the Rose community in the life of its students.

"I am an extroverted person by nature and I love to talk to people and hang out with them. This virus, unfortunately, tells me to do the opposite to stay safe," said Walker.

"I really missed being able to hang out with my friends and work together on our problems – academic and otherwise," agreed Dey.

"I think this time has let many appreciate the value of the Rose-Hulman community," added Hageman. "These few months have allowed individuals to realize the importance of connecting with others on a regular basis. I think that after this pandemic is over, many will have a deeper appreciation for others."