Faculty, Staff Honored for Teaching, Scholarship & Service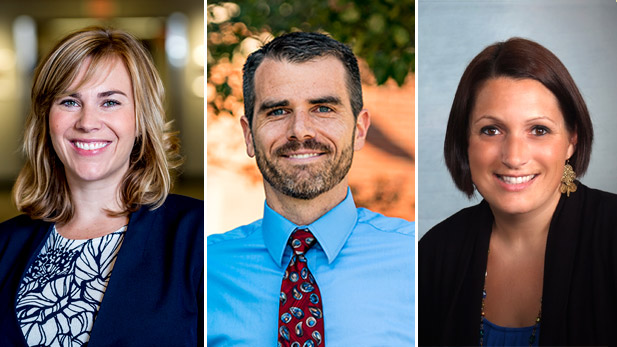 Three faculty and staff members were recognized for teaching excellence, scholarship, and service to the campus community. The awards were presented during Rose-Hulman's 142nd Commencement, conducted virtually on May 30.
Associate professor of chemistry and biochemistry
Rebecca DeVasher
received the Dean's Outstanding Teacher Award, while Department of Chemical Engineering head and associate professor
Adam Nolte
earned the Board of Trustees Outstanding Scholar Award.
Meanwhile, Janie Szabo, an instructional designer in the Office of Learning and Technology, was named the President's Outstanding Service Award recipient.
The Outstanding Teacher Award recognizes a faculty member who has demonstrated outstanding ability as a teacher, through attention and dedication to student learning.
Provost and Vice President for Academic Affairs Rick Stamper cited DeVasher for being a compassionate and effective mentor of undergraduate research, focusing on individualized, self-driven student learning. Meanwhile, while being challenging, she is considered fair and takes considerable effort to converse with students outside the classroom about academic, career choice, and life challenges.
"Dr. DeVasher's research in green chemistry to reduce the use of and exposure to hazardous chemicals is another demonstration of her concern for students," said Stamper. "The phrase 'above and beyond' occurred multiple times in the nominations submitted by students advocating for Dr. DeVasher. It is clear that in all forms of teaching, Dr. DeVasher is remarkable."
DeVasher has been involved with a variety of campus sustainability initiatives and helped faculty colleagues to examine the merits of a professional credential badging program. She also has been a faculty mentor to visiting high school students completing science in Rose-Hulman's Operation Catapult and Project Select summer exploration programs and been the adviser for the Unity student organization. The Rose-Hulman Alumni Association recognized DeVasher in 2019, granting her honorary alumna status.
After earning a bachelor's degree in chemistry from the University of Alabama in 2000, DeVasher added a doctorate in the science discipline from UA in 2004. Soon thereafter, she joined the Rose-Hulman faculty.
Nolte, the Outstanding Scholar Award winner, has a broad interest in research, including areas of breast cancer detection, environmentally responsive coatings, and analysis of thin films and composites. His work has garnered more than $500,000 in grants, been published in the Advanced Materials and American Chemical Society's Biomaterials Science and Engineering journals, and been featured at talks at institutions throughout the country. Many of his publications, posters, and presentations include Rose-Hulman undergraduate and masters-level collaborators.
Rose-Hulman President Robert Coons notes, "Dr. Nolte works with partners in industry and at institutions such as Purdue University, the National Institute of Standards and Technology and the University of Pennsylvania. Most of his work has been accomplished while serving as a department head, making his record even more notable."
Nolte earned a bachelor's degree in chemical engineering from the University of Missouri-Rolla and, later, a doctorate from the Massachusetts Institute of Technology, specializing in materials science and engineering. He joined the Rose-Hulman faculty in 2009.
In presenting the President's Outstanding Service Award, Coons noted that "every crisis has its heroes. For us, the crisis was transitioning from face-to-face to remote learning in a matter of days this spring due to COVID-19. This was a monumental task with no playbook and no precedent."
Szabo's dedication, hard work, and commitment to Rose-Hulman and its students helped pull together the campus community to make the educational transition as smooth as possible.
One faculty member stated, "Janie was a superstar before the pandemic, but has notched up her level of commitment and dedication during this 'stay-at-home' period. While no one ever expected total remote online learning at Rose, Janie already had videos made walking faculty members through the basics of teaching online."
Another professor wrote, "Janie embodies the culture of Rose. She is always eager to help in any way possible. Whenever I have an issue, I know that if I turn to Janie, the task will get done."