Alumnus Designs Watches to Remember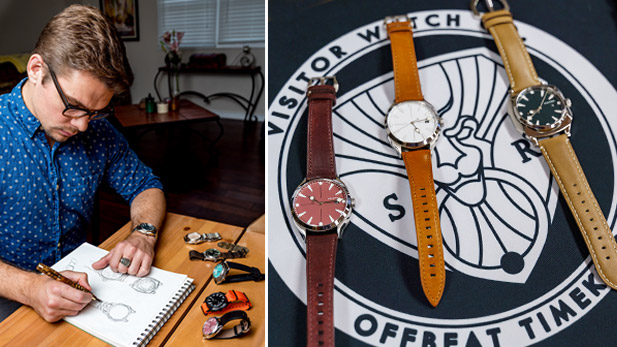 Rose-Hulman alumni are known for their interesting careers, such as managing auto racing teams, driving nuclear submarines, designing rollercoasters or sitting on one of the nation's highest courts.

But Phil Rodenbeck may be the first to start his own watch company.

After earning his bachelor's and master's degrees from Rose-Hulman in 2010 and 2012, Rodenbeck first tried the more conventional career route of working for an aerospace company in Florida. But, as he says, "I didn't love doing it every single day, eight hours a day," so he soon abandoned that course and, in 2013, launched Visitor Watch Co.

Visitor clearly isn't as well-known as Timex, Seiko or Rolex, but, it's not supposed to be. It's what's known as a micro brand, a class of watches familiar to watch lovers, collectors and anyone who has "fallen down the watch rabbit hole," as Rodenbeck puts it.

"I wanted more creativity in my day-to-day life," Rodenbeck told a gathering of students, faculty, and staff at a campus talk hosted by the Department of Humanities, Social Sciences, and Arts in January. Running a watch company allows him to exercise his creativity by designing and producing stylish watches, each reflecting the acute attention to detail that has come to distinguish the Visitor brand.

Today, Visitor Watch Co. sells about 500 watches per year, most priced between $500 and $900. As the company's sole employee, Rodenbeck has designed three distinct lines: Duneshore, Linden and Vale Park.

"I strive for uniqueness in my designs," he says, calling attention to the fountain pen nib-inspired look of the hands-on his Duneshores line of watches. "There are no other watch hands that look like this."
Micro brand watches have grown and flourished thanks to the internet. Mostly one-person operations, they eliminate the retail middleman and sell directly to consumers while social media networks and watch-enthusiast YouTube channels provide low-cost marketing opportunities.

"Instagram is where it is at right now," Rodenbeck says.

Looking to the future, Rodenbeck says he has "other business ideas," but, for now, Visitor Watch Co. is more than enough to keep him happy and busy.

Asked whether it was scary to leave a good job to launch a risky business venture, Rodenbeck says he took the long view: even if the company bombed, he would have received valuable professional experience.

"If I'd have failed, I'd just have had an interesting story to tell in my next job interview," he says.