Students Open New Literary Worlds in a Flash through Comics, Graphic Novels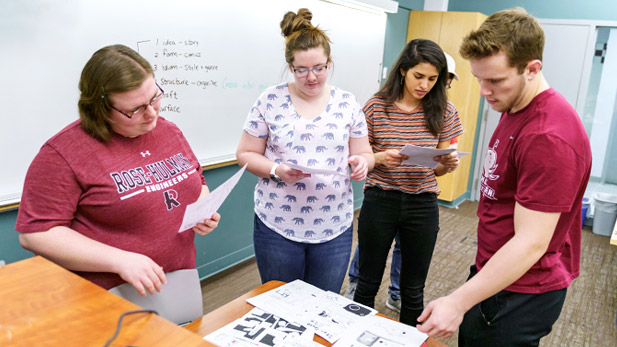 With the same spirit that characters such as Batman, Spiderman and X-Men jumped off the comic book pages to inspire legions of STEM professionals, such graphic novels are sparking Rose-Hulman students' interests in literature and the creative process.
Students have flocked to fill the classroom seats in a course covering visual rhetoric and graphic novels, taught by Sarah Summers, assistant professor of English. It allows students to discuss and analyze graphical communication, and gives them a chance to produce their own minicomic.
And, drawing skills aren't necessary.
"I can't draw people, so inanimate objects are perfect for me," admits senior Phillip Tyler while reviewing the inspiration of his hand-drawn "Making Friends" comic over during the final two weeks in this winter quarter's class. His creation showcased the love-hate relationship between a 3-D printer and a drawing robot. While the objects at first disliked each other, a relationship slowly emerged through each succeeding rectangular panel.
By the end of the story, the two objects had become friends.
The class hit a particular chord with the mechanical engineering and computational science major, who battles the effects of dyslexia in order to read materials in his academic textbooks.
"Comics are a gateway to reading, comprehending and retaining stories," he says. "This class has opened my world. I didn't know that graphic novels are comics in a long form. There are books out there that I can read."
Senior electrical engineering student Alex Hobble drew "A Man's Best Friend," whose panels were filled with elements in life that bring him contentment, like outdoor scenes and waterfalls. The game "Dungeons & Dragons" inspired Maya Holeman, a senior software engineering and computer science student, to create her "The Adventurer" comic. Sophomore computer science major Denny Colomes recalls how one swing of a baseball bat, producing a hit after several misses and caught fly balls, developed his love of the summer game.
"Making my own comic, I learned that the design of the story is almost more difficult than drawing it," Colomes says. "Making comics is so much more than just telling a story in words. The professionals definitely make using panels as icons look easy."
Senior civil engineering student Molly Redmon adds that her comic "Sammi's Choice," filled with several underlying themes about life's decisions, taught her "that details do matter. The point of the story is more important than the background images."
Those lessons bring satisfaction to Summers, who developed the humanities and social sciences course as a way to introduce literature to STEM-oriented students. This winter students read "The New Super-Man" and "Ms. Marvel" comics along with such graphic novels as "Maus," "Batman: Dark Knight Returns" and "My Friend Dahmer," with an opportunity to have a Skype interview with artist John "Derf" Backderf.
"This class is a fun way to get students into reading and interpretation," the professor says. "Our students deal with visualizing things all the time. This is a good way for them to think about literature in a different way."