Faculty Trio Earn National Science Foundation Grants to Improve Student Success
Thursday, September 19, 2019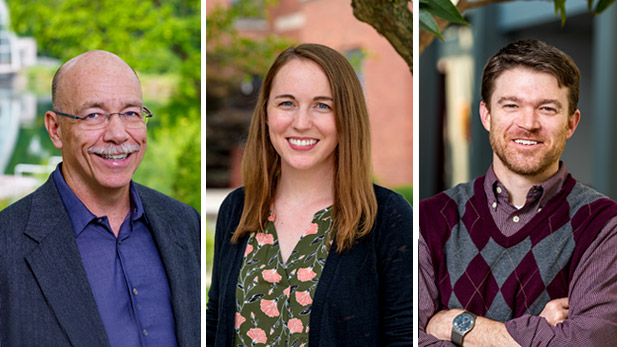 Three Rose-Hulman professors are playing key roles in national research projects, supported by the National Science Foundation (NSF), that are striving to enhance learning experiences for engineering and computer science students.

"These NSF grants showcase the commitment of Rose-Hulman faculty to continuously improve how we educate our students," says Provost and Vice President for Academic Affairs Rick Stamper. "They also are one more indication that our faculty lead conversations within the science, technology, engineering and math education communities."

Aimee Cloutier, an assistant professor of mechanical engineering, is joining a colleague from Virginia Tech on a two-year project to identify specific benefits for students who participate in engineering-focused extra- and co-curricular activities.

"We're specifically looking to see if activities such as competition teams and undergraduate research experiences support and strengthen the skills students are learning in the classroom, especially in the development of professional skills," says Cloutier.

Surveys throughout the next two years will assess students' development of their engineering and professional skills, self-confidence, teamworking ability, and comfort level in working with technology.

Meanwhile, associate professor of computer science and software engineering Joseph Hollingsworth is working with faculty colleagues at Clemson University, Florida Atlantic University and Howard University on a three-year project to identify where and why undergraduate computing students encounter difficulties in reasoning symbolically about the behavior of the software they write. This frustration, identified in as many as 60 to 70 percent of current students trying to learn about software development, can cause many to quit or transfer from computer science programs.

Hollingsworth says, "Identifying the roadblocks that students encounter within the early stages of the coding education process can help improve the number of professionals within computer science and software engineering as well as to help broaden participation."

Also, NSF is continuing to support work by Patrick Cunningham, associate professor of mechanical engineering, to expand students' metacognitive development. This new grant supports the creation of a virtual short course to guide diverse faculty in developing metacognitive activites to use with their students. Metacognition is a critical area that helps engineers handle ambiguity that's inherent in the problem-solving process.
Cunningham was named the 2018 Board of Trustees Outstanding Scholar in recognition of his creative scholarly activities to help transform teaching and learning by preparing faculty to engage students in learning about the learning process, thereby empowering students to direct their learning more effectively. His past work has resulted in educational modules that are being used by other U.S. colleges and universities.