Civil & Environmental Engineering Head Kevin Sutterer Earns National Distinguished Service Award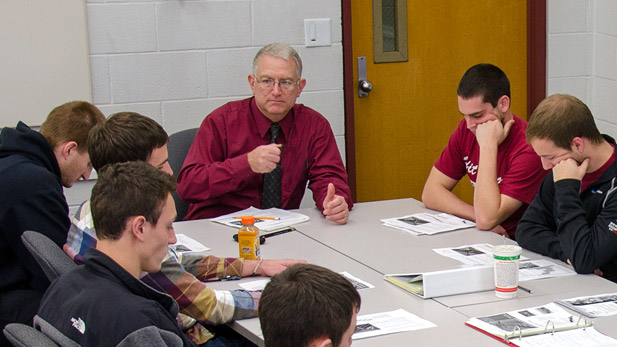 Kevin Sutterer, head of the Department of Civil and Environmental Engineering, has been recognized by the American Society for Engineering Education for his outstanding service in support of civil engineering education and the civil engineering profession.
The ASEE's civil engineering division will present Sutterer with the George K. Wadlin Distinguished Service Award during the organization's conference this June in Salt Lake City, Utah.
Sutterer, a member of the Rose-Hulman faculty for 20 years, has led the institute's civil and environment engineering area since 2009.
Under Sutterer's guidance, the Department of Civil and Environmental Engineering has been a proponent of engineering ethics and teaching ethical decision making. All graduating civil engineering students are strongly encouraged to take the Fundamentals of Engineering exam annually, and a series of guest speakers from industry assist in addressing the importance of professional licensure to a graduate's career.
Rose-Hulman students also learn how to become eligible to take the professional engineering licensure exam and the vital role of continuing education in career development. The Department of Civil and Environmental Engineering received the Walter LeFevre Award in 2017 for exemplary promotion of licensure, ethics education and professionalism in engineering education.
"Kevin is the consummate mentor, with a servant heart and a dedication to serving the public," says associate professor of civil and environmental engineering Matthew D. Lovell, a 2006 Rose-Hulman civil engineering alumnus. "Kevin knows that his actions as an educator and a professional have direct impact on the public, and he works diligently to get others to realize their potential."
Sutterer chaired ASEE's civil engineering division from 2010-11 after serving as director from 2005-09. He also has helped organize the group's annual meeting, been involved on the awards committee and been the American Society of Civil Engineers' liaison to the ASEE's civil engineering division. He also serves as an evaluator and consultant for civil engineering programs being reviewed by the Accreditation Board for Engineering and Technology.
Professionally, Sutterer is an expert in geotechnical engineering and failure investigations. He has helped lead several workshops for incorporating failure investigations into civil engineering education and practice. He also has been a strong advocate for infrastructure improvement, including a number of trips to Washington, D.C., on behalf of ASCE. Sutterer is a former associate editor of the ASCE Journal of Professional Issues in Engineering Education and Practice and served on the ASCE Committee on Education for several years.   
At Rose-Hulman, Sutterer was faculty advisor for the Cecil T. Lobo ASCE student chapter for eight years, with the organization three times (2008, 2006 and 2005) earning the Robert Ridgway Awards as nation's outstanding chapter. He was named the 2008 Outstanding Faculty Advisor of the Year for ASCE's Region 4 and 1996 Young Engineer of the Year by the National Society of Professional Engineers.