Rose-Hulman Awarding Nearly 500 Degrees on Saturday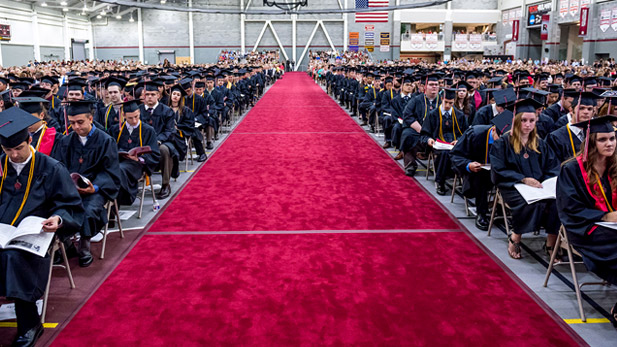 The future is now for nearly 500 students receiving bachelor's and master's degrees Saturday, May 26, during Rose-Hulman's 140th Commencement in the fieldhouse of the Sports and Recreation Center.
Another 52 members of the Class of 2018 will be recognized in anticipation of completing academic degree requirements following the summer or fall academic quarters.
Jim Umpleby, chief executive officer of Caterpillar Inc. and a 1980 Rose-Hulman graduate, is returning to his alma mater to present the commencement address.
Approximately 90 percent of Rose-Hulman's new graduates already have accepted full-time employment, are planning to attend graduate school, or will be commissioned military officers, according to the Office of Career Services. The $71,080 average accepted starting salary offer for 2018 Rose-Hulman graduates is an all-time high for the institute. Top hiring companies include Rockwell Collins, Naval Surface Warfare Center-Crane, ArcelorMittal, Boston Scientific, Cummins, Edgile, Texas Instruments, Allegient, Eli Lilly and Company, North American Stainless and Valeo.
In addition to the awarding of diplomas, the ceremony will recognize select members of the Class of 2018 for academic, leadership, extracurricular activities, and helping make Rose-Hulman a better place.
Speaker Notes
Since Jan. 1, 2017, Umpleby has been CEO and a member of the board of directors for Caterpillar, the world's leading manufacturer of construction and mining equipment, diesel and natural gas engines, industrial gas turbines and diesel-electric locomotives. He is leading the company's execution of a new enterprise strategy for profitable growth, based on operational excellence and making the company's customers more successful by providing expanded offerings of products and services. Caterpillar's 2017 sales and revenues were $45.5 billion, an 18-percent increase over 2016 levels.
Umpleby has had a 38-year career with Caterpillar, starting as an associate engineer in 1980 with San Diego-based Solar Turbines, now a wholly owned subsidiary of Caterpillar. He has had a variety of positions in engineering, manufacturing, marketing, sales and services, and he spent six years in Southeast Asia on assignment in Malaysia and Singapore.
Rose-Hulman presented Umpleby, a former student body president, with an honorary doctorate in engineering in 2016. He received the Alumni Association's Career Achievement Award in 2000.
By The Numbers:
453 – Fall, winter, and spring bachelor's of science degree graduates
43 – Graduate-level degree graduates          
87% -- Placement rate at commencement
$71,080 – Average accepted starting salary (an all-time high for Rose-Hulman graduates)
28% -- Percentage of Class of 2018 that had multiple job offers
33 – States represented
Other Countries Represented (10): Bolivia, China, Denmark, Germany, Hong Kong, India, Iran, Russia, South Korea and Taiwan